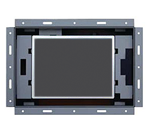 An open frame monitor is a display that is integrated into a bare metal chassis without an enclosure or bezel. The advantage of an open frame monitor is the flexible design that allows it to be integrated into a wide range of applications. Since these monitors do not have an enclosure, it can be easily fitted into existing equipment or structural housings, such as kiosks. In addition, an open frame monitor gives users the freedom to design a custom bezel for individual projects or specific industry requirements. Open frame monitors can be used in a wide range of industrial and commercial industries, such as point-of-sale, industrial automation, surveillance systems, OEM, ATM machines, and much more. Acnodes' open frame monitors can be easily configured to satisfy specific requirements and offers options for various mounting solutions and touch screen displays. These monitors ideal for a wide range of applications including rugged outdoor environments, industrial applications, kiosks, cabinet displays, and custom-built machines. Acnodes has a lineup of customizable mounting solutions, both panel mount monitors and open frame monitors, that are designed to adapt to almost limitless mounting surfaces and specifications
Advantages of Open Frame Monitors:
Flexible design allows it to easily fit into pre-existing structural housings
Customize enclosures for custom projects or specific industry requirements
Rugged durable metal construction and heavy-duty steel
Versatile displays and signal interface for VGA / DVI / HDMI
Mounting solutions for panel / VESA / wall mount
Option available for touch screen technology and embedded modules
Suited for a wide range of industrial and commercial applications
Acnodes' full line of open frame monitors:

Acnodes Corporation has a wide array of product line configurations. They can customize most commercial and industrial computers to one's specific needs. For information, please visit www.acnodes.com or contact us at [email protected].
About Acnodes Corporation
Acnodes manufactures, designs, and markets industrial computers and display solutions for diverse industries ranging from automation to military. We have an array of technological innovations in the area of rack mount servers, embedded computers, Panel PC's and rugged monitors that create simpler and more valuable products to the customers. We work closely with our clients to customize computer products to meet their required projects and challenges. Acnodes strives to explore new technologies to better improve life and work.