Acnodes Corporation - a leading provider of industrial computers and display solutions - proudly presents RMC5285, our new 2U rackmount computer system designed for edge-computing, telecom, and AI applications. The system board supports a standard ATX motherboard with the latest 12th Generation Intel Core processors (Code Name: Alderlake) and Intel LGA 1700 chipset. The system board comes in two different layouts. The first is with the motherboard I/O at the rear (RMC5285-A), which supports 1 x PCIe x16 Gen3 + 1 x PCIe x8 Gen4 single slot. The second layout is with the low-profile card at the rear (RMC5285-B), which supports 1 x PCIe 5.0 x16 + 1 x PCIe 3.0 x4 + 2 x PCIe 3.0 x1 + 1 x PCIe 3.0 x16 slot. With flexible front I/O and rear I/O application options, the RMC5285 provides adjustability, compatibility, and accessibility for your system.
Designed to meet the limited space of edge data appliances and space-critical applications, the RMC5285 comes 2U in height and 450 mm (17.7 inches) in depth. It supports a standard ATX motherboard and 4 x 2.5" external hot-swappable drive bays. The RMC5285 also supports 2 pcs dual port SATA BP to support 4 x SATA drives. The RMC5285 is made of heavy-duty preplated SPGC cold-rolled steel for long-term durability. There are two front USB 3.0 ports, one power on/off switch, and one system reset switch that allows users to easily control the computer. There are also LED indicators for power status, LAN activity, and drive activity. The LED indicators are located on the front panel to allow you to easily see the status of the system with a quick glance. With a short-depth design of 17.7", this 2U rackmount system can easily mount into shallow rack cabinets and confined spaces. 
The system utilizes an 800W 1+1 redundant power supply to meet the needs of most user application requirements. It also supports four 60x38mm easy swap fans that can be easily adjusted to support both options of front and rear I/O of the chassis to ventilate the heat. A variety of rise card options can be selected to fulfill the needs of applications ranging from low to mid-end. The RMC5285 is an extremely reliable 2U rackmount system ideal for a wide range of applications. All of our systems go through a quality test and burn-in procedure prior to shipping.
Please visit RMC5285 - 2U Rackmount Computer for detailed specifications. If you need a custom solution that isn't offered, please contact us about your specifications and requirements.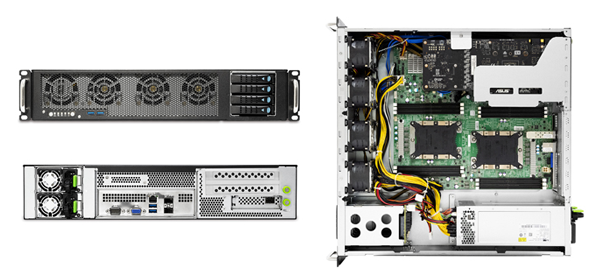 Acnodes Corporation has a wide array of product line configurations. They can customize most commercial and industrial computers to one's specific needs. For information, please visit www.acnodes.com or contact us at [email protected].
About Acnodes Corporation
Acnodes manufactures, designs, and markets industrial computers and display solutions for diverse industries ranging from automation to military. We have an array of technological innovations in the area of rack mount servers, embedded computers, Panel PC's and rugged monitors that create simpler and more valuable products to the customers. We work closely with our clients to customize computer products to meet their required projects and challenges. Acnodes strives to explore new technologies to better improve life and work.