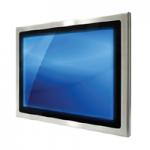 Acnodes - a leading provider of industrial computers and display solutions - features the PMN80XXX stainless steel panel mount monitor series. The units come in LCD sizes ranging from 10.1 inches to 27 inches and are designed with an anti-corrosion stainless steel housing that resists corrosion and damage from heat and chemicals. In addition, the stainless steel housing makes the units easier to clean and are ideal for washdown environments, such as the food processing or chemical & pharmaceutical industries. The units also feature a fully IP66 rated rugged enclosure that is dust-proof and protected against powerful jets of water.
The PMN80XXX monitors come with an LCD monitor, P-cap multi-touch screen display, and VGA video input. Options are available for a 1000-nit high brightness display, optical bonding, DVI or HDMI video port, and a resistive-type touch screen monitor. The rear panel has VESA mounting holes and OSD membrane buttons. The OSD allows users to adjust the monitor for contrast, color, position, auto-adjustment, and factory settings. The power supply for the units includes a 110 to 240VAC power input or a 12V DC power input. Option for a 9 to 26V DC power input is available. These fully IP66 rated stainless steel monitors have extended working temperatures and MIL-STD-810G compliance, making them well equipped for harsh environmental conditions.
Key Features:
• Anti-corrosion stainless steel housing
• Full IP66 rated rugged enclosure
• VGA video input, option for DVI or HDMI
• P-cap multi-touch screen monitor with USB
• Option for resistive-type touch screen
• Option for high brightness display and optical bonding
• Option for DC power supply

Acnodes Corporation has a wide array of product line configurations. They can customize most commercial and industrial computers to one's specific needs. For information, please visit www.acnodes.com or contact us at [email protected]
About Acnodes Corporation
Acnodes supplies and markets industrial computers and display solutions for diverse industries ranging from automation to the military. They have an array of technological innovations in the area of rackmount servers, embedded computers, Panel PCs, and rugged monitors that created more simple and valuable products to the customers. Acnodes works closely with their clients to customize computer products to meet required projects and specifications. Acnodes strives to explore new technologies to better improve life and work.