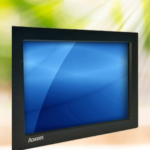 Nowadays, sunlight-readable monitors are more popular than ever before. In many years, military and industries use sunlight-readable monitors to help with navigate higher level tasks. There are two ways to get sunlight readability. One is to work with the sun, another is to overpower the sunlight.
What Is Sunlight-Readable Display?
Today, more companies use sunlight-readable monitors for different industrial and commercial uses. Many business owners find that sunlight-readable screens have a lot more advantages for commercial purposes. While daylight washes out the screen and adds reflections, which make the screen difficult to read, sunlight-readable monitors are essentially for outdoor usages that can work. Therefore, there are many industries and businesses rely on screens for a variety of tasks. With sunlight-readable displays, screens are visible in even the brightest lighting situations. High-brightness screens also allow users to do more outdoor.
How Does Sunlight Readable Technology Works?
First, a screen's brightness measured by the number of nits. Second, nits referred to candlepower, per meter squared (cd/m2). Usually, users can find the brightness information from the spec sheets of the vendors. Furthermore, high brightness screen has at least 1,000-nit screens. Moreover, outdoor flat panel displays can go up to 5,000 nits. With the brightness of ultra-extreme, bright displays should also have a dimmer, which automatically reduces the screen's brightness at night to comfort the naked eye.
Sunlight-Readable Monitor Technology
In fact, there are many different types of daylight monitors today. To understand the creation of a sunlight-readable monitor is to understand the basic designs of TFT LCD displays. In addition, TFT LCD stands for a thin-film-transistor liquid-crystal display. The TFT LCD display defined into three categories, which are transmissive, transflective, and reflective. Therefore, each of them handles light in different ways to create a visual image on the display.
First, transmissive TFT LCD has no reflective properties. Transmissive technologies are used when there is minimal ambient light. Second, transflective TFT LCD displays have the reflector that can be worked at various states based upon ambient light. This transflective technology works in sun-readable displays, but cannot generate full-color displays.
Third, reflective TFT LCD display required ample light, it's good for the outdoor environment. Lastly, based upon the above descriptions. As a result, the reflective display works best under sunlight and the transmissive display works as a good combination under the mode of ample ambient light viewing and low ambient light viewing.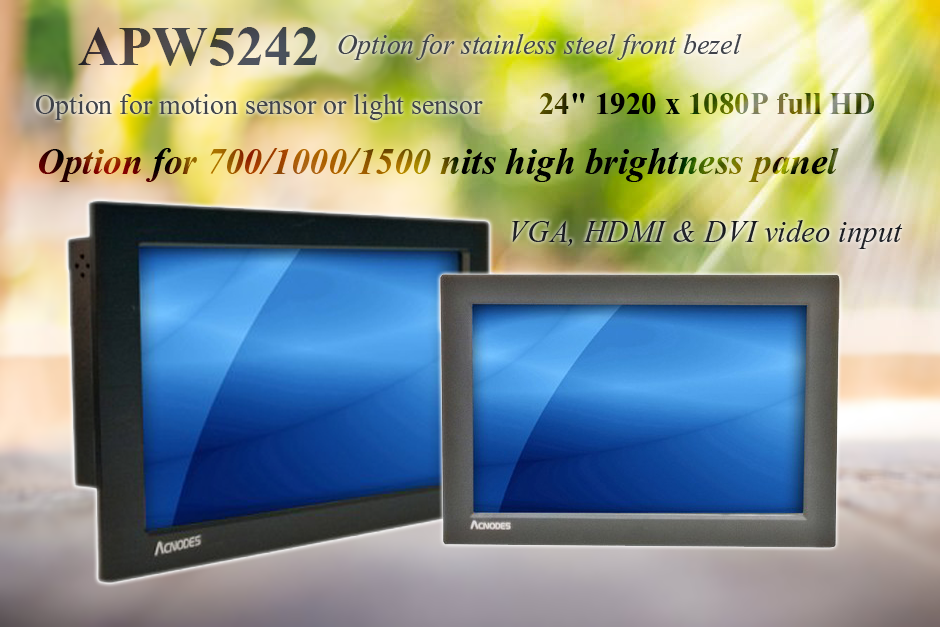 Suggested Sunlight-readable Display Nits for Different Conditions
As in an indoor lighting situation, the ambient brightness is less than 1000-nits. The recommended display brightness is up to 300-nits and is good for PC desktop monitor or lab equipment. Our PCM8210 with standard 350-nits and options for 1000-nits would be a good example of using a desktop monitor or as a lab monitor indoor.
On the other hand, in a situation of bright ship lighting or overcast sky without shadows present. The recommended brightness is 300-500-nits and usually uses industrial display. Therefore, our open frame panel monitor PM-S0154 with standard 400-nits and options of 700 or 1000-nits would be a good choice for industrial purpose.
With indirect sunlight, the suggested brightness is about 500-800-nits. Usually, this situation takes place at shopping centers, airports, or public areas. Acnodes' Panel mount monitor APH8120 with standard 800-nits would work just fine in public areas. APH8120 also offers the option for an anti-reflective and optical bonding LCD monitor.
When in a condition under full sunlight and blue sky, the suggestion brightness of the screen is 800-1000-nits. Outdoor places like gas station machines would need high brightness sunlight readable screen for a display to customers. Acnodes offers lots of high brightness customized monitors to meet users' requirements.
Acnodes Corporation has a vast amount of product line configurations. Moreover, they can customize most industrial and commercial computers to one's specifications. For more information, please e-mail them at [email protected] or visit their website: www.acnodes.com. One can also call them at (909) 597-7588.
About Acnodes Corporation
Acnodes Corporation makes, sells, and designs industrial computers and display solutions for diverse industries that range from automation to military. Most of all, they supply efficient and valuable products for their customers. They have a host of technological innovations in Panel PCs, embedded computers, rack mount servers, and rugged monitors. Acnodes Corporation strives to meet their clients' needs with cutting-edge technology and solutions.