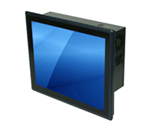 Acnodes - a leading provider of industrial computers and display solutions - launches our new modular panel PC series, PCQ10XXX. The PCs come in various display sizes ranging from 15" to 24" and feature an IP66 flat front panel that provides protection against dust and water projected from powerful jets. The LCD comes with a PCAP touch with 10-point multi-touch and an anti-glare coating for outdoor applications. The system is powered by the Intel® Pentium G5400 Dual-Core 3.1GHz processor with the Intel® Q370 chipset. Option for the Core i3-8100T, i5-8500T, or i7-8700T CPU is available. The memory for the system supports a 2 x 288-pin 2666/2400 MHz dual-channel DDR4 unbuffered DIMM slot up to 64GB. The DDR4 memory offers a greater range of clock speeds and low power consumption to optimize the performance of the system. The compact 2U system is compatible with standard server rack cabinets and provides a rich I/O interface, which includes 1 x HDMI output, 2 x GbE LAN ports, 6 x USB 3.2 ports, 2 x RS-232 COM ports, 1 x microphone-in, 1 x line-out port, 1 x AT/ATX switch, and 1 x reset button.
The system is designed with a smart fan that allows the CPU and the system fan to be configured separately, allowing the unit to be quieter during operation. The smart fan also extends the life span of the fan and enhances the stability and durability of the system. The storage for PCQ10XXX includes 4 x hot-swappable HDD bays and 2 x M.2 PCIe NVMe SSD slots for high-speed PCIe 3.0 by 4 signals. The HDD comes with a security key lock for system security and LED indicators for drive activity. PCQ10XXX features quad PCIe 3.0 low profile expansion slots; two PCIe by 4 and two PCIe by 8 with vertical heat dissipation and the two PCIe by 8 provides zero latency. The slots also support AI accelerator cards, such as FPGA card, vision process card (VPU), and etc. With the flexible configurations, the PCQ10XXX are AI-ready panel PCs fit for a wide range of industries. The PCs come with a 250W ATX power supply featuring an active PFC (Power Factor Correction) circuit protection and 80-Plus Gold high efficiency. Option for a 350W ATX power supply is available. Constructed with a heavy-duty metal housing, the PCs are equipped to operate in extended temperature ranges from -20°C to 50°C.
Key Features:
• Various LCD screen sizes: 15" / 15.6" / 17" / 18.5" / 21.5" / 23.8"
• Intel® Pentium G5400 Dual-Core 3.1GHz processor
• Option for Core i3-8100T / i5-8500T / i7-8700T CPU
• PCAP type 10-point multi-touch screen monitor with anti-glare coating
• 8GB DDR4 memory, up to 32GB & Dual M.2 PCIe NVMe SSD slots
• 4 x hot-swappable HDD bays with security key lock & LED indicators for drive activity
• 4 x PCIe 3.0 low profile expansion slots supporting AI accelerator cards
• 250W ATX power supply, option for a 350W ATX power supply
• Option for Windows 10 Pro OS

Acnodes Corporation has a wide array of product line configurations. They can customize most commercial and industrial computers to one's specific needs. For information, please visit www.acnodes.com or contact us at [email protected]
About Acnodes Corporation
Acnodes manufactures, designs, and markets industrial computers and display solutions for diverse industries ranging from automation to military. We have an array of technological innovations in the area of rack mount servers, embedded computers, Panel PC's and rugged monitors that create simpler and more valuable products to the customers. We work closely with our clients to customize computer products to meet their required projects and challenges. Acnodes strives to explore new technologies to better improve life and work.