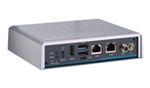 Acnodes - a leading provider of industrial computers and display solutions - introduces FEC8010, an industrial embedded system for edge AI computing and smart city applications. FEC8010 employs the NVIDIA Jetson Nano, which integrates the quad-core ARM Cortex-A57 MPCore processor and NVIDIA Maxwell GPU architectures with 128 NVIDIA CUDA core processor. With the NVIDIA Jetson CPU board, FEC8010 is able to provide advanced computing abilities and operational reliability for demanding AI applications. The system also comes with a 4GB 64-bit LPDDR4 memory and onboard 16GB eMMC storage. FEC8010 offers various I/O ports including 1 x HDMI with 4K2K supported, 1 x GbE LAN, 1 x GbE PoE for camera, 2 x USB, and 1 x micro USB for image flash. It also comes equipped with one full-size PCI Expression mini card slot that allows users to install add-on cards and I/O cards for custom configurations
The high performance embedded system is designed with heavy-duty steel and an aluminum extrusion with IP40 protection. FEC8010 features a fanless design that improves the system's reliability and prevents dust and other contaminants from entering the system, which can potentially damage the internal components and cause the system to fail. In addition to the rugged fanless enclosure, FEC8010 has a wide temperature range of -30°C to 60°C. With these features, FEC8010 is equipped to withstand the rigors from harsh environments and ready for deployment in a wide range of industries. Weighing at 3.52 lbs and with dimensions of 5.8"(W) x 5.11"(D) x 1.36"(H), FEC8010 offers the option for various mounting solutions (Wall, DIN Rail, and VESA) and supports the Linux Ubuntu operating system.
Key Features:
• Employs the NVIDIA Jetson Nano with Maxwell GPU architecture with 128 NVIDIA CUDA cores processor
• Implements the Quad-core ARM Cortex-A57 MPCore processor
• Rich I/O interface includes 1 x HDMI, 1 x GbE LAN, 1 x GbE PoE, 2 x USB, and 1 x micro USB for image flash.
• Achieves operational excellence, efficiency, and reliability in smart manufacturing and intelligent edge AI applications
• Wide range working temperatures of -30°C to 50°C ensures reliable operation in harsh wokring environments
• Provides the option for various mounting solutions (wall mount, DIN Rail mount, and VESA mount)
• Supports Linux Ubuntu operating system

FEC8010: Fanless edge AI system with NVIDIA Jetson Nano, Maxwell GPU, 4GB LPDDR4 onboard memory, 1 x HDMI, 1 x GbE LAN, and -30°C to 60°C wide range working temperature. Option for wall / DIN Rail / VESA mount.
Acnodes Corporation has a wide array of product line configurations. They can customize most commercial and industrial computers to one's specific needs. For information, please visit www.acnodes.com or contact us at [email protected]
About Acnodes Corporation
Acnodes manufactures, designs, and markets industrial computers and display solutions for diverse industries ranging from automation to military. We have an array of technological innovations in the area of rack mount servers, embedded computers, Panel PC's and rugged monitors that create simpler and more valuable products to the customers. We work closely with our clients to customize computer products to meet their required projects and challenges. Acnodes strives to explore new technologies to better improve life and work.