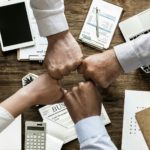 Acnodes Corporation is proud to announce that we have re-certified ISO 9001:2015 certification for our Quality Management System.
ISO 9001:2015 is the world's most widely recognized Quality Management Standard, which helps organizations to fulfill the expectations and needs of their customers. Furthermore, ISO 9001:2015 is established on quality management principles, such as a strong customer focus, and the involvement of high-level company management, and a process approach of ongoing improvements to the service provided.
Acnodes Corporation continues to show our ability to effectively and efficiently provide a quality management system by achieving ISO 9001:2015. This certification also shows Acnodes Corporation continuously improving our products and services as well as our internal processes.
Acnodes Corporation has a wide array of product line configurations. They can customize most commercial and industrial computers to one's specific needs. For more information, please call them at (909) 597-7588 or email them at [email protected] One can also visit their website at www.acnodes.com
Acnodes Corporation markets, sells, and manufactures industrial computers and display solutions for diverse industries that range from military to automation. They furnish efficient and valuable products for all their customers. They have a great deal of technological innovations in the form of rugged monitors, embedded computers, Panel PCs, and rack mount servers. Acnodes Corporation aims to meet their clients' needs with the most cutting-edge technology and solutions