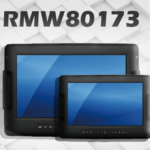 Acnodes Corporation, a quality provider of industrial computers introduces 8U 17" 4K LCD rackmount monitor - RMW80173. Next, RMW80173 features in heavy-duty steel housing materials. Furthermore, RMW80173 offers compliance to MIL-STD-810F in vibration and shock. In additions, RMW80173 also offers VGA + HDMI 1.4 + displayport 1.2 for video input. RMW80173 provides various options for DVI-D, BNC, MIL-type or lockable connector in video inputs. Moreover, RMW80173 comes with 12VDC power input.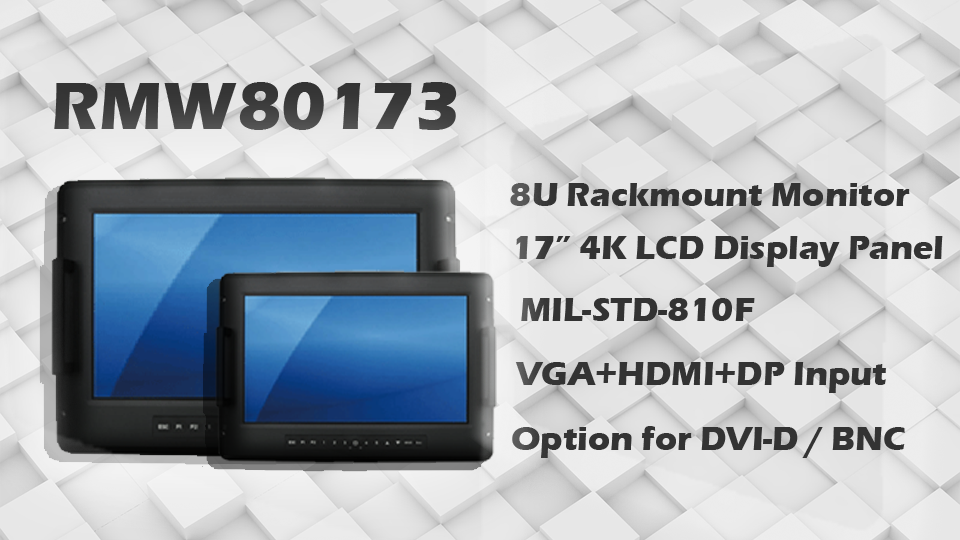 First of all, RMW80173 features with 8U high 17" 4K LCD rackmount monitor. RMW80173 offers Max. resolution 3840 x 2160 4K LCD and 400-nit brightness with heavy-duty steel housing material. Moreover, RMW80173 supports 1000:1 contrast ratio, 89/89/89/89 for viewing angle (L/R/U/D), and 382.12H x 214.94V (mm) for active area. Furthermore, this 17.3" LCD panel provides LED backlight with 16.7 million 8-bit colors, and MTBF 20,000 hrs (Mean time between failures).
In additions, RMW80173 comes with 1 x VGA D-sub 15pin, 2 x HDMI, 1 x DisplayPort. Furthermore, RMW80173 offers options in 1 x BNC, 1 x DVI-D, and MIL type or lockable connector. On the other hand, this rackmount monitor also provides 100 x 100 mm VESA mount.
Military requires rapid, reliable and durable technology to guarantee that failures do not happen while operations are in progress. RMW80173 supports compliance of MIL-STD-810F in shock and vibration (method 514.5 procedure and method 516.6 procedure). Besides the shock and vibration compliance. RMW80173 also offers operating temperature ranging from -5~50ºC degree and storage temperature ranging from -30~70ºC degree. RMW80173 provides non-condensing humidity from 10~95%. FUrthermore RMW80173 certified with FCC, CE, CE / LVD and RoHS2 and REACH complaint.
RMW80173 comes with a product dimension in 18.9"(W) x 1.9"(D) x 10.5"(H) and product weight in 9.2 lb. The are also options in connector 1 x D38999/24WA98PN power connector, 1 x audio in, lockable male jack for USB connector (touch screen monitor only). Moreover, RMW80173 supports 12V DC power input with an AC/DC extender power adapter.
About Acnodes

Acnodes Corporation makes, sells, and designs industrial computers and display solutions for diverse industries that range from automation to military. Most of all, they supply efficient and valuable products for their customers. They have a host of technological innovations in Panel PCs, embedded computers, rack mount servers, and rugged monitors. Acnodes Corporation strives to meet their clients' needs with cutting-edge technology and solutions. For more information, please e-mail them at [email protected] or visit their website: www.acnodes.com. One can also call them at (909) 597-7588.