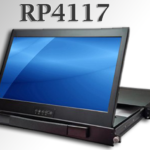 Acnodes, a quality provider of industrial computers introduces industrial monitor integrated 17.3" 3840 x 2160@60GHz 4K ultra HD LCD display panel - RP4117. With VGA, HDMI & DP inputs in a 1U high low profile 19.5" depth with IP54 rated rackmount monitor drawer. Furthermore, power supply consists of a 12V DC power input with power consumption of 30 Watts (typically).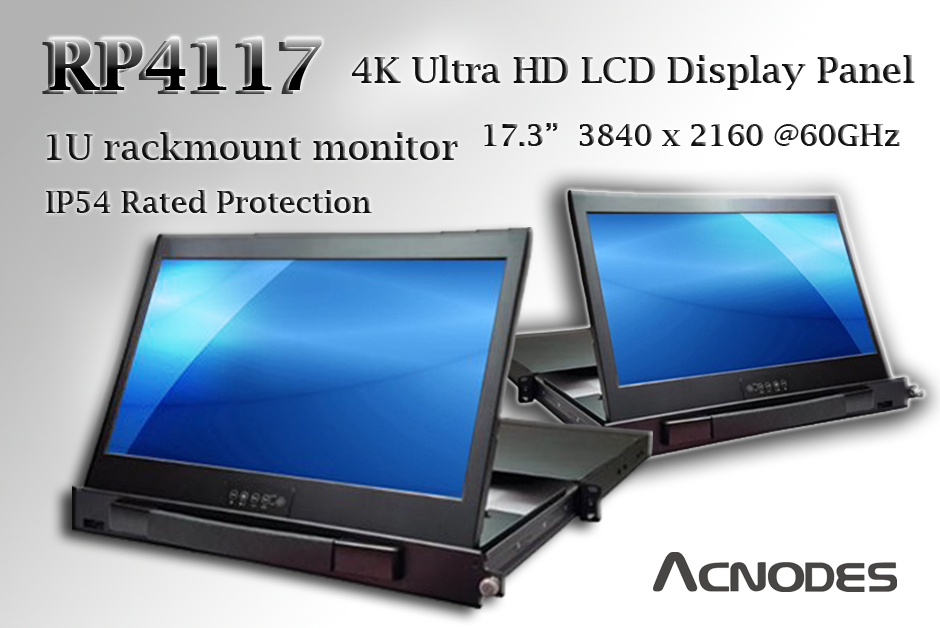 The RP4117 features a 1U high rackmount monitor with 17.3" 3840 x 2160 4K ultra HD LCD high resolution display panel. Next, 1U high rackmount monitor with 19.5" and can be pulled out to 23" as maximum extension to fit in the cabinet. Furthermore, RP4117 offers security locks in front, slide rail locks, and latch to make sure when flip over the monitor can hold in place. Moreover, RP4117 offers AR glass protection for the screen and IP54 rated protection for rackmount monitor drawer.
Acnodes Corporations unveils the RP4117 which offers VGA, HDMI, and DP video inputs. The RP4117 brings the convenience for users with the OSD input. Furthermore, the OSD input provides 5-key OSD buttons with PIP, contrast, color, position, auto-adjustment, and factory settings.
Additionally, the RP4117 offers the aluminum enclosure for housing material with 17.3" monitor 3840 x 2160 @60GHz 4K display. Furthermore, RP4117 provides a brightness of 400 nits and a contrast ratio of 1000:1. This 4K ultra HD display gives an active area in mm 382.12 (H) x 214.94 (V) plus its viewing angle 178°(H) and 178°(V). In additions, RP4117 also offers 16.7 M of colors and pixel pitch of 0.0995(H) x 0.0995 (V) in mm with LED backlight.  

RP4117 power supply consists of a 12V DC power input with power consumption of 30W (typically). On the other hand, RP4117 operates temperature ranging from -10°C to 55°C (14°F to 131°F). Next, this 4K ultra HD display also stores at temperature ranging from -30°C to 80°C (-22°F to 176°F). Furthermore, RP4117 offers dimension of 17.48" (W) x 20.00" (D) x 1.73" (H) and weight of 17.64lbs. Moreover, provides the humidity from 10%~95% without condensing.
Acnodes Corporation provides many different rack mount monitors such as 1U high, meet military standard, high brightness or wide screen.  
Acnodes Corporation has a wide array of product line configurations.  They can customize most commercial and industrial computers to one's specific needs. For more information, please call them at (909) 597-7588 or email them at [email protected] One can also visit their website: www.acnodes.com
About Acnodes

Acnodes Corporation markets, sells, and manufactures industrial computers and display solutions for diverse industries that range from military to automation. They furnish efficient and valuable products for all their customers. They have a great deal of technological innovations in the form of rugged monitors, embedded computer, Panel PCs, and rack mount servers. Acnodes Corporation aims to meet their clients' needs with the most cutting-edge technology and solutions.