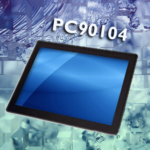 First of all, to customize customer's needs and requirements on PCs. Modular Panel PC Solutions are the best option, they are a more convenient and more effective choice for integrated displays and fanless box PCs. Acnodes Corporation is proud to announce our new modular panel PC - PC90104.
On June 20, 2017, Acnodes releases PC90104, which is a modular panel PC solution. Model PC90104 offers expanded capabilities for flexibility in difficult and harsh environments. Most importantly, the IP65 rated aluminum front bezel makes the PCs are rugged and reliable. Acnodes Corporations unveils the PC90104, a 10.4" 800 x 600 LED backlight panel PC. This model has a projected capacitive touch screen with IP65 rated aluminum front bezel. Furthermore, this modular PC also has a detachable Celeron N3150 Quad Core 1.6GHz embedded PC, 4GB DDR3L, 64GB SSD, 12~24V DC power input, and 0 to 50 degree C wide range working temperature. Furthermore, the LCD monitor is 10 inches and has a resolution of 800 x 600 LED backlight monitor. In addition, it comes with a projected capacitive type multi-touch screen monitor. Also included detachable CPU Celeron N3150 Quad Core 1.6GHz embedded system. Additionally, its power supply consists of an external 110/220VAC power adapter, and its power consumption is 34W. Also, it can operate at temperatures ranging from 0°C to 50°C (32°F to 122°F), and it can be stored at temperatures ranging from -30°C to 80°C (22°F to 175°F).
For more information, please visit https://www.acnodes.com/panel-pc/fanless-panel-pc/pc90104.htm
More addition, Acnodes Corporation has a wide array of product line configurations. Therefore, they can customize most commercial and industrial computers to one's specific needs. For more information, please call them at (909) 597-7588 or email them at [email protected] One can also visit their website: www.acnodes.com.
About Acnodes Corporation
Acnodes Corporation markets, sells, and manufactures industrial computers and display solutions for diverse industries that range from military to automation. They furnish efficient and valuable products for all their customers. They have a great deal of technological innovations in the form of rugged monitors, embedded computer, Panel PCs, and rack mount servers. Acnodes Corporation aims to meet their clients' needs with the most cutting-edge technology and solutions.