Sunlight readable LCD monitors are designed for outdoor industrial display applications.  It features a transflective LCD module that improves the display contrast through the high brightness backlight source and illuminance sensor that lets LCD readable display function in over a wide range illuminance levels.
What is a Sunlight Readable Display?
A sunlight-readable display consists of an LCD that is bright enough to function under direct sunlight.
What is the difference between a regular LCD and a Sunlight Readable Display?
A regular TFT LCD relies solely on ambient light, therefore using very little power. But because this type of display does not have any reflective properties, the images on the screen are barely visible in well-lit offices and outdoor environments.
The Sunlight Readable display has a transflective display and can adapt to the external source of lighting, making it possible to see images under the brightest conditions and in complete darkness.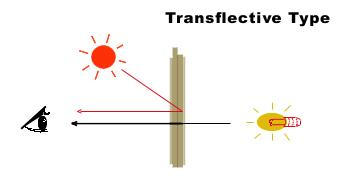 How does a Sunlight Readable Display work?
When exposed under the sun, the sunlight-readable display adjusts to the brightness of outdoor conditions and utilizes the light beams to give off illumination. The display reflects against the light passing through the screen and becomes constant with the contrast of the beams. The transflective technology allows the display to become viewable under the brightest luminance regardless of the original brightness of the LCD. Because the brightness of the LCD is dependent upon the lighting conditions, the brightness can be adjusted when used in dark environments to decrease battery consumption.
Why choose a Sunlight Readable Display?
Although the problem with transflective LCDs is discoloration, the improved transflective technology now provides better color performance. In addition to the improvements made, no extra heat is generated even when the brightness is at its peak which lessens power consumption issues.
The Sunlight Readable Display can be utilized in all conditions including under direct sunlight and provides better contrast for both outdoor and indoor environments. In the dark, the backlight is turned on to display the best possible image, allowing the display to be useful in both high and low lighting.
About Acnodes Corporation
Acnodes manufactures, designs, and markets industrial computers and high brightness display solutions for diverse industries ranging from automation to military. We have an array of technological innovations in the area of rack mount servers, embedded computers, Panel PC's and rugged monitors that create simpler and more valuable products to the customers. We work closely with our clients to customize computer products to meet their required projects and challenges. Acnodes strives to explore new technologies to better improve life and work.