Acnodes Corporation, a leading manufacturer of industrial and embedded computer platforms and technologies, introduced today the launch of the APH8070, a 7 inch panel mount LCD monitor. The monitor displays 800 x 400 resolution, 1000 nits high brightness, and industrial LED LCD. It is protected with IP65 rated rugged metal front bezel. It can withstand -20°C to 60°C wide range operating temperature. It comes with VGA and DVI and 12VDC power input. The LCD panel features a 7 inch screen, maximum resolution of 800 x 480, 1000 nits high brightness, 500:1 contrast ratio, and 16.2M colors in 8 bits color. The signal input is VGA and DIV. The backlight is of LED. Along with the IP65 rated rugged metal front bezel, it is also protected by AR glass. The options for resistive type or capacitive type touch screen are available. The video input is of VGA and DVI with option for S-Video and Composite. The OSD menu control consists of 5-key OSD buttons functioning in contrast, color, position, and auto-adjustment. The panel mounting type can be either panel mount or VESA mount. The power supply is 12D DC power input with option for external AC power adapter. The connectors include VGA D-SUB, DVI-I, and 12V DC input. Optional connectors include S-Video, composite, and RS232 for touch screen. APH8070 operates on temperatures from -20°C to 60°C (-4°F to 140°F) and in storage at -30°C to 80°C (-22°F to 176°F). The dimension measures at 8.58"(W) x 6.48"(H) x 2.39"(D).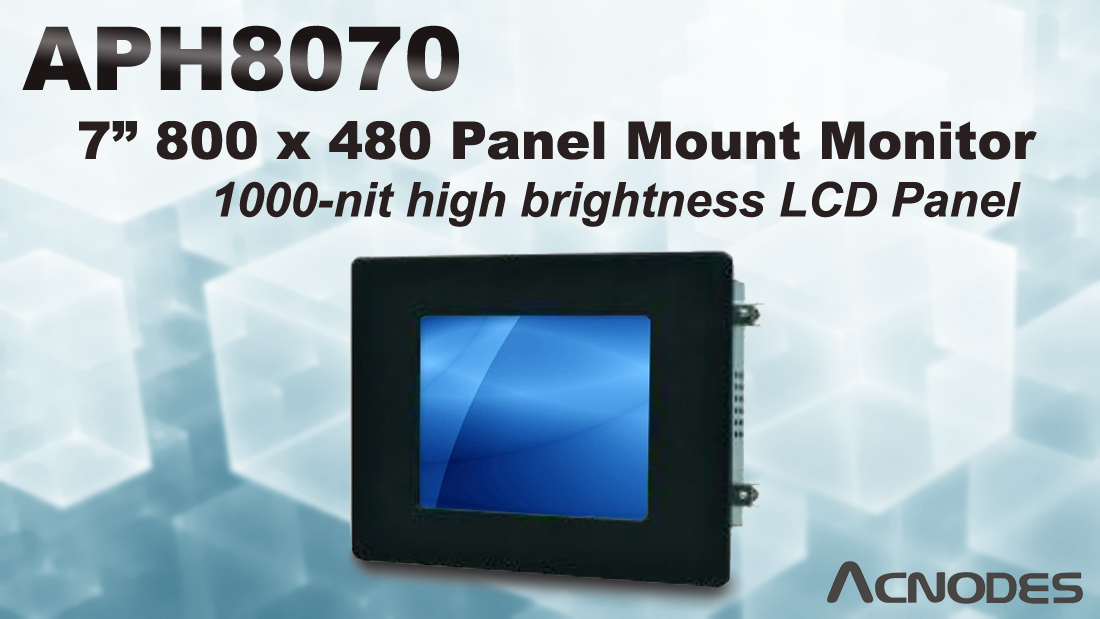 APH8070: Acnodes 7" Panel Mount Monitor that supports 800 x 400 resolution, IP65 rated rugged metal front bezel, VGA + DVI video input, 12V DC power input.
Our product line configurations are illustrated on our website at Acnodes.com. However, most of the commercial and industrial computers are custom built to customer's exact requirements. Contact us via email: [email protected] or telephone (1-909-597-7588) for more information.
About Acnodes Corporation
Acnodes manufactures, designs, and markets industrial computers and display solutions for diverse industries ranging from automation to military. We have an array of technological innovations in the area of rack mount servers, embedded computers, Panel PC's and rugged monitors that create simpler and more valuable products to the customers. We work closely with our clients to customize computer products to meet their required projects and challenges. Acnodes strives to explore new technologies to better improve life and work.