The ultra-slim and rugged touch screen monitors are designed to operate 24/7 in physically demanding environments. The developing industry becoming more complex and is in high demand for more reliable and efficient technologies. Embedded Human Machine Interface touch screen technology shows exceptional performance for complicated industrial applications. This article addresses the main features and benefits of the APA9XXX series in their wide range of LCD sizes, industrial protection, easy maintenance, advanced touch screen technology, and environmental durability.
HMI Touch Displays - APA9XXX Series
Acnodes HMI touch screens come in a wide range of LCD sizes for your industrial needs. The panel mount sizes includes 7", 8", 10", 12", 15", 17", 18.5", and 21.5" touchscreen displays. They also feature new LED backlights to save power. One of the biggest problems that drain your monitor's power consumption is the luminescence the monitor light gives off. Monitors that incorporate LED backlights are not only energy-efficient and better for the environment, but also produce accurate colors and color gamut. Have more color gamut increases the range of colors that are available on the monitor.
These rugged monitors have taken into account of outdoor-settings and highly lit environments as well as optical bonding. Acnodes HMI monitors include options for high brightness features to compensate for highly lit environments like in sunlight. Optical bonding is useful for touch screen monitors that are not weatherproof or ready for extreme environments. Optical bonding uses silicone or urethane to cover the LCD for better protection against harmful substances like dust and moisture. It can also improve the LCD's ability to endure shocks and vibrations. And finally, optical bonding does not just protect the LCD physically, it allows for clearer views of the screen by removing internal reflections. Optical bonding with high brightness (1000-nit) gives users excellent visibility. It is time to start investing in long-term monitors that meet the demands of all industrial applications.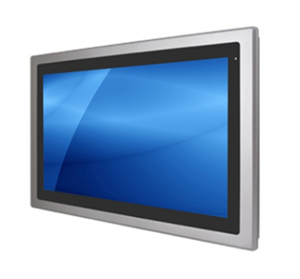 Supports Touch Screen Technology - Resistive / Projected Capacitive Displays
Choosing the right touch screen to meet specific applications is absolutely crucial. Acnodes HMI touch screens offer two types of touch screens that users can choose from. The first is called resistive touchscreens. These are composed of multiple flexible layers separated by a gap. The touch screens only operate with resistance on the screen so any object can activate it, such as your finger, styluses, sticks, gloved hands, and the like. Resistive touch screens are highly resistant to water and dust, however, are not the most sensitive forms of touch screen technology. Capacitive touch screens are typically used in smartphones and tablets that are coated with ITO and activated by the electrical charge from your finger. The great benefits of capacitive type touch screens are that it supports multi-touch, and unlike resistive types, capacitive touch screens are highly sensitive and clearer.
Ingress Protection - IP65 Flat Front Bezel
Apart from LED back-light technology and advance touch screens, HMI touch screens need to meet industrial protection qualities called Ingress Protection or (IP). The standard rating for IP is IP65 and that is what all Acnodes touch screen monitors deliver. IP65 protects from water sprays from all directions a lot with dust. All Acnodes HMI touch screen monitors feature standard VESA or panel mounting.
Model
APA9070
APA9080
APA9101
APA9120
APA9150
APA9170
APA9180
APA9215
LCD Panel
7 inch

800 x 480

8 inch

800 x 600

10.1 inch

1280 x 800

12 inch

800 x 600

15 inch

1024 x 768

17 inch

1024 x 768

18.5 inch

1366 x 768

21.5 inch

1920 x 1080

Video Input
VGA + DVI
Touch Screen

Resistive – Standard

Capacitive – Optional

1000-nits High Brightness
Optional

N/A
N/A
Extended Temperature

-20°C to 60°C

Optional

N/A
N/A
Power Input
9~36VDC with external AC adapter

IP65 Rated Front Bezel
Standard

Aluminum Die-casting Enclosure

Standard

Dimension

7.95"(W)

5.87"(H)

1.54"(D)

9.09"(W)

6.93(H)

2"(D)

11.22"(W)

7.44"(H)

1.93"(D)

12.56"(W)

9.65"(H)

2.05"(D)

16.14"(W)

12.2"(H)

2.15"(D)

17.28"(W)

13.70"(H)

2.55"(D)

19.67"(W)

12.39"(H)

2.36"(D)

21.93"(W)

14.25"(H)

2.55"(D)
Acnodes Corporation has a wide array of product line configurations. They can customize most commercial and industrial computers to one's specific needs. For information, please visit www.acnodes.com or contact us at [email protected]
About Acnodes Corporation
Acnodes manufactures, designs, and markets industrial computers and display solutions for diverse industries ranging from automation to military.  We have an array of technological innovations in the area of rack mount servers, embedded computers, Panel PC's and rugged monitors that create simpler and more valuable products to the customers. We work closely with our clients to customize computer products to meet their required projects and challenges. Acnodes strives to explore new technologies to better improve life and work.