Acnodes Corporations, a leading manufacturer of industrial and embedded computer platforms and technologies, introduced today the launch of PCM8010, a fan less military grade panel PC powered by Celeron Bay Trail N2930 1.83GHz. The fully IP 67 rated rugged enclosure is complimented with MIL-STD-810G and wide range operating temperature. Featured with integrated Intel HD Graphics, 16.2 million colors, and option for 1000-nit high brightness display, the 10.4 inch LED monitor displays brilliance image qualities. Along with Fintek F81866 chipset, SATA II HDD 500GB or mSATA SSD 64/128GB drive bay, LAN, COM, and two USB ports, PCM8010 will meet the functionality and practically of requirements in demanding environments.
The 10.4 inch LCD panel displays a maximum resolution of 1024 x 768. The standard configuration is 350-nit brightness but option for 1000-nit high brightness is available. The contrast ratio is 1200:1 with viewing angle at 176'(H)/ 176'(V). The backlight is of LED and with 16.2 million colors. The 5-wire resistive type touch screen monitor is highly resistive to liquids and contaminants, easily activated with fingers, stylus or gloved hands, and consumes low amount of power.
The CPU is Celeron Bay Trail N2930 1.83GHz with memory slot of DDR3 SO-DIMM 4GB (maximum 8GB), Fintek F81866 chipset, Integrated Intel HD Graphics, Intel WG82574L GbE Ethernet, and audio of Realtek ALC886 HD Audio Codec. The drive bay consists of SATA II HDD 500GB or mSATA SSD 64/128GB. The power supply is of a wide range of 9~36V DC power input. The connectors include two USB 2.0, COM port (RS-232), RJ45 GbE LAN, and 9~36V DC input.
PCM8010's dimension is 11.02"(W) x 9.45"(H), creating easy installation for VESA mount or an option for 30°~90° Swivel bracket. The full IP67 rating protects immersion of liquids and contaminants and MIL-STD 810G protects for vibration and shock, safeguarding the unit during harsh environment settings. The ability for wide range operating temperature of -25°C to 60°C (-13°F to 140°F) also takes contribution for the durability and long wear of the panel PC.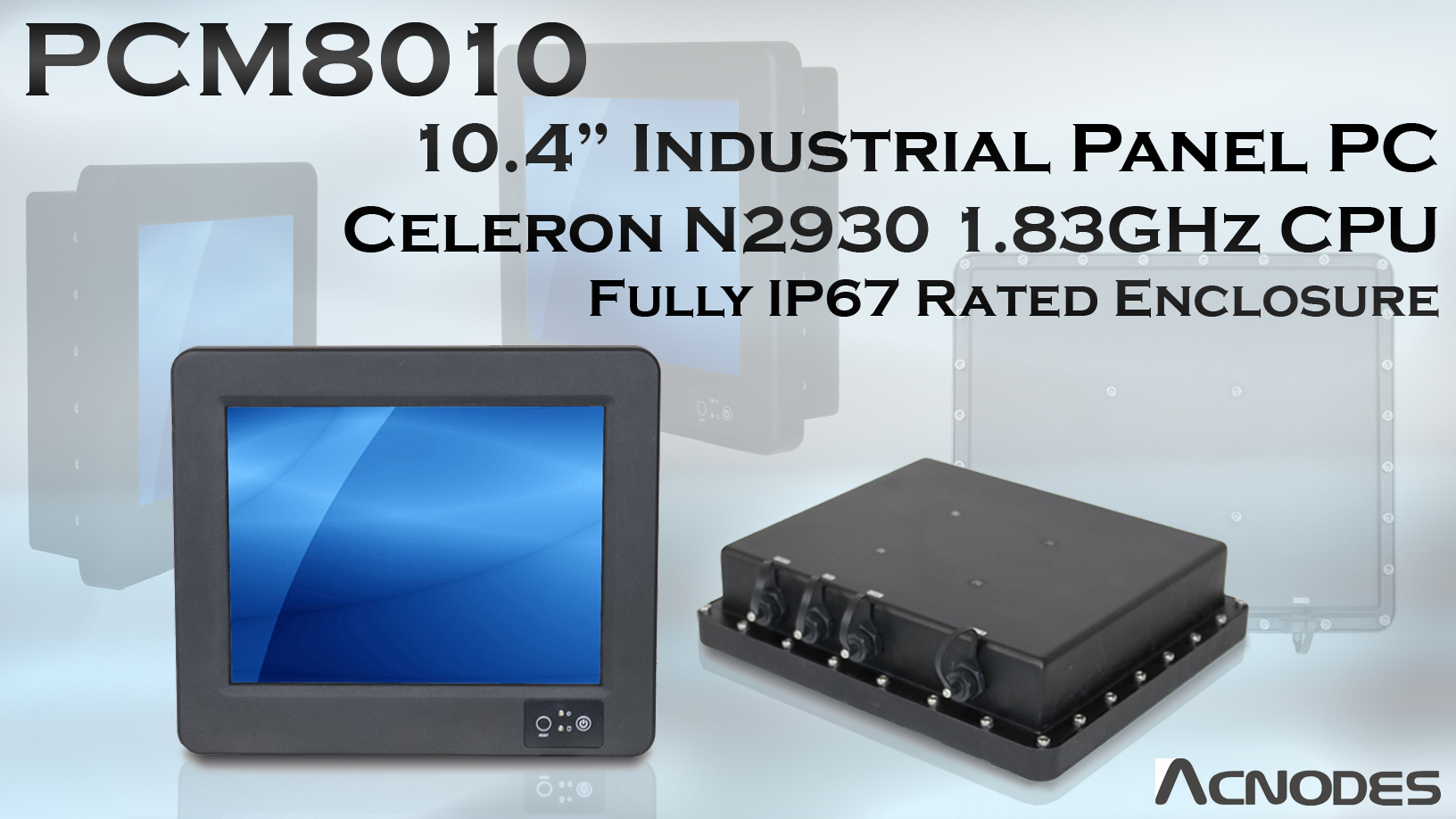 PCM8010: Acnodes 10.4" Military Grade Panel PC with 5-wire resistive type touch screen, Celeron Bay Trail N2930 1.83GHz, Fully IP67 rugged enclosure, configurations with 4GB DDR3 memory, 1 x Ethernet, 1 x Serial, 2 x USB, 9~36V DC power input.
Look inside to discover full range of Panel PCs from Acnodes
Fanless Panel PC – 7" to 21.5" Panel PCs with fanless cooling system
•Fanless Panel PC with Extended Temp Range - Panel PCs with extended operating temperature
•Panel PC with Expansion Slots – Panel PCs with PCI or PCI Express expansion slots
•Medical Grade Panel PC – Panel PCs with anti-bacteria coating, water/dust proof slim casing
•Open Frame Panel PC – Panel PCs with rugged metal open frame housing for wall or VESA mounting
•Rugged Industrial and Military Panel PC - Panel PCs that meet MIL-810G-STD testing standard for industrial and military computing applications.
•HMI Panel PC – Panel PCs designed for seamless interaction between humans and machines.
•Stainless Steel Panel PC  – Panel PCs with IP protection enclosure to cope industrial applications with harsh environmental conditions
Our product line configurations are illustrated on our web site at Acnodes.com.  However, most of the commercial and industrial computers are custom built to your exact requirements. Contact us via e-mail: [email protected] or telephone (1-909-597-7588) to discover how we can give you the equipment you need for your specific needs.
About Acnodes
Acnodes manufactures, designs, and markets industrial computers and display solutions for diverse industries ranging from automation to military.  We have an array of technological innovations in the area of rack mount servers, embedded computers, Panel PC's and rugged monitors that create simpler and more valuable products to the customers. We work closely with our clients to customize computer products to meet their required projects and challenges. Acnodes strives to explore new technologies to better improve life and work.