The Internet of Things (IoT) is a big concept and there is one simple way to define the Internet of Things. The concept that the Internet of Things is no longer a network for people to communicate with one another using computer but it is also a platform or device to communicate with the world. It is a platform that connects the web and the physical world. Things that are considered on the Internet of Things are all and any things, from machines and appliances we use at home and jobs, buildings we live in, cars we travel with, and to even ourselves, will become part of the Internet of Things.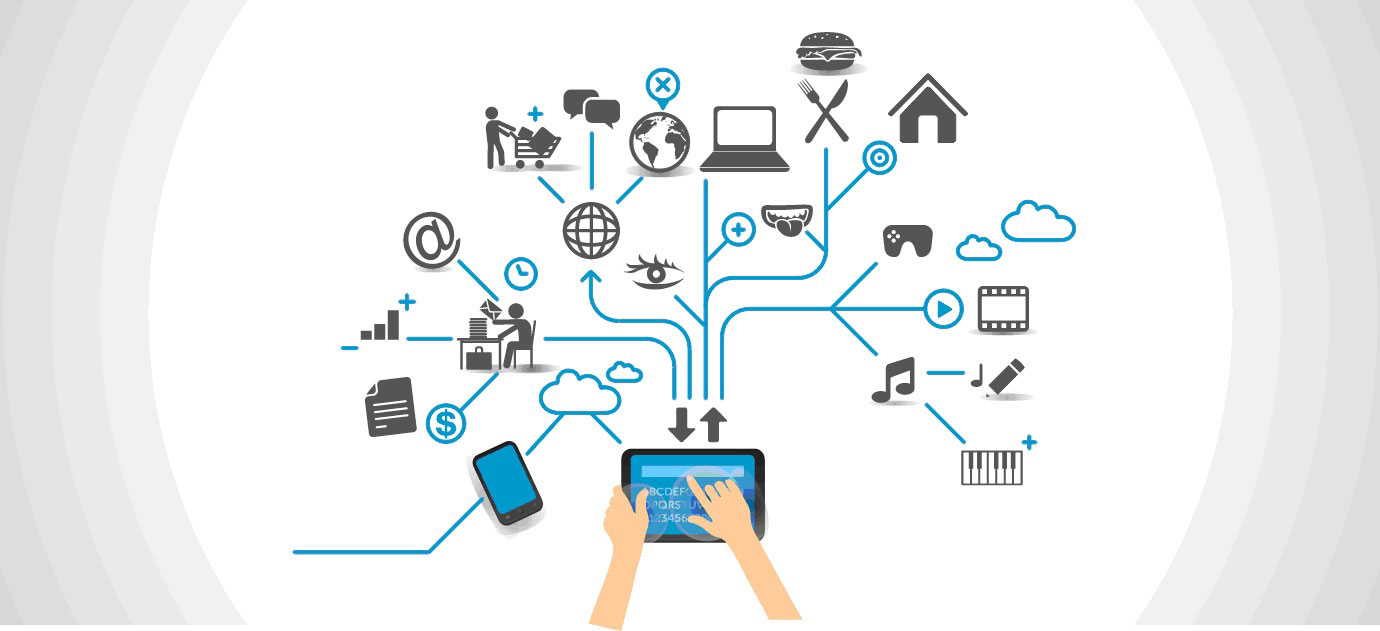 How do we do that? First is by giving it a unique identity. The second is to give it the energy to communicate. The third is to put sensors on the thing so we know about the thing and the environment around it. Last is to reach out and control it by using a machine so we can control it anywhere in the world. What will we do with the thing? It can have a potential impact on our life and society. By connecting with things, we learn new ways with the Internet of Things. There is a completely new way to learn and our smartphones will become the device that can learn about things. For instance, we can learn about the ingredients, origin, dietary needs, and such from a food package, or we can walk up to a piano and search who was the last person that played it and when. The Internet of Things can reach out and monitor things. For example, it can monitor health issues. Like for cardiac devices, it can monitor heart rhythms and eating habits. But in the future with better technology, we will be able to detect health issues easier and faster. The Internet of Things can better manage things. We can better manage the city, like energy flows, energy in cities, traffic controls, and traffic congestions. It is vital to a business, factory, and health care because it gives vital data to track inventory, manage machines, be efficient, and save lives.
In 2006, there were 2 billion connected devices. In 2015, it is estimated to 15 billion connected devices, and in 2020 it will rise to an estimate of 200 billion. What is driving the growth of more things are people creating more data like smart houses, industrial machines and manufacture, appliances, cars, and medical devices. They are all connected, communicating with each other, and sending data to the Internet of Things. There are challenges with the Internet of Things. As the devices have grown at a phenomenal rate of 300% over the past five years, it has generated all new kinds of data that are implemented and processed by those devices and 90% are unstructured data. Most devices have specific purposes built in an isolated network such as an enterprise network for security reasons. They are proprietary and highly vertical so their implementation is expensive and costly to the market. Furthermore, based on Intel's reports, 85% of these devices that are relevant to the Internet of Things are actually living in the existing legacy infrastructure. How the device is going to be used for all specific purposes and have the benefits of the Internet of Things is a challenge to the industry.
Intel's Intelligent Systems Framework (ISF)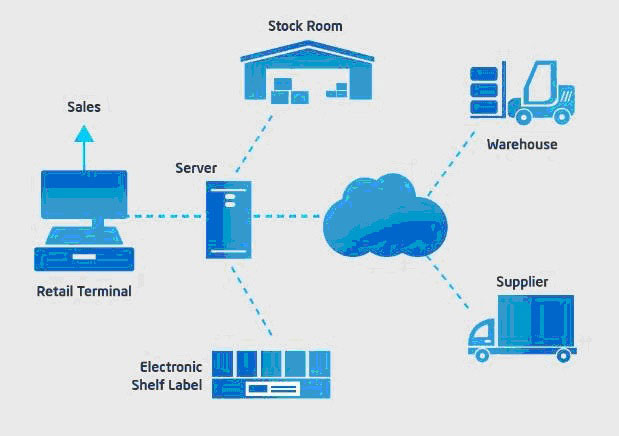 Intelligent Systems Framework is for the full benefits from the IoT, this way will help business and industry to transform and improve the productivity as well as efficiency, which can reduce a huge amount of operations and defer from costs that business and industry will encounter. For IoT to become real, mass devices are being connected in the industry. Furthermore, it is easy for devices to become connected in the existing infrastructure and is important because 85% of the devices that are relevant to the IoT are actually living in the existing legacy infrastructure. Bringing those devices into the floor and also bringing the benefits of the IoT to those devices are very important to the industry.
Computer economics have improved significantly and this is important as we bring the IoT to the device. As there are a lot of additional performers that is needed we would have to implement in particle stat to make sure those devices can really connect to a variety of different networks, would have to implement security, would also have to implement data filtering at a local level so that we can not only get global insight but also respond to the event at the local level.
Big data have matured in a very significant way driven by business intelligence and social media. Industries have learned how to create extra more information out of big data. This is critical for the IoT because, without those critical insights, we would not be able to drive the real business transformation that industries after which will really unleash the potential of the IoT.
The cloud is relative and universal nowadays with the easy provision of services to IoT so Intel and its partner introduced the framework of the intelligent system to simplify the deployment of IoT and empower customers to retract greater value from their data by using the Intel ISF. The industry will be able to connect the devices through a flexible network to the cloud and build an end to end solutions.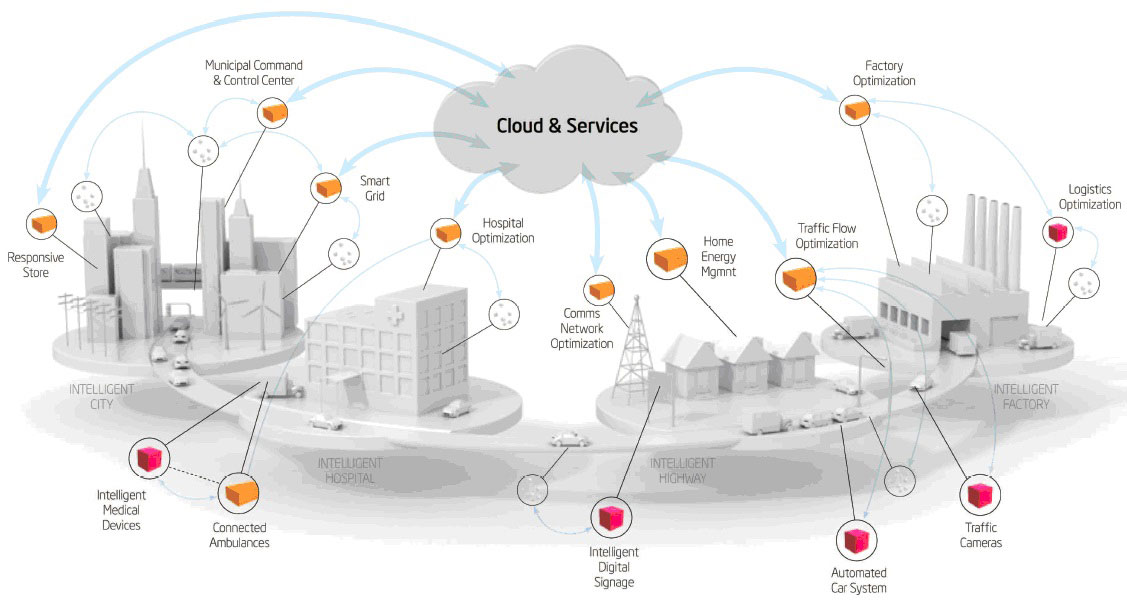 What is ISF? There has been a huge explosion in the number of internet-connected devices, however, the devices are purpose build and have been designed by more than four companies on a different architecture, so consequently, they are very diverse. Intel introduced IFS to bring greater standardization to the industry to provide market options for intelligent systems. ISF is a set of interoperable solutions designed to address connecting, managing, and securing devices in a consistent and scalable manner. The framework is made out of several key components. By using it, an end-user company can concentrate on converting their data into something valuable like customer insight and new value-added activity.
What are the benefits of using the framework? To process the connected devices involves the use of proprietary components from a variety of manufactures. It can over miss the security and manageability feature needed to protect and manage the network of devices connected to each other and the cloud that is generating massive amounts of data. This approach can be time-consuming, costly, and create IP issues. By using the framework, the hardware and software integration is done for the customer, saving valuable time. Customers will be able to build their systems faster, develop new service, and extract value from the data collected with the end customer in mind. By heavy connections, secured and manageable solutions, enterprises can focus on converting data into long term business.
Internet of Things Gateway- Intelligent Systems of Systems
85% of the devices that are relevant to the IoT are actually living in the exiting legacy infrastructure. In case businesses cannot wait for the full refresh of the infrastructure, it has to enable the benefit of business transformation and that is the great thing about the IoT. Industries have to connect those devices into the benefit of the IoT today. Intel has come out with a system of a systems view. System of systems is an open platform built on commercial off the shelf component that allows the marketplace to establish the implemented data acquisition, secure and federate the date between the cloud and devices for analytics, establish middleware for standardized minor to manage prohibition and drive devices to opportunity. This entire component including software and transaction security has come together in a full solution that would allow the marketplace to enable and deploy the benefit of the IoT with time to market. The Intelligent Systems to Systems open architecture for ecosystem apps and services, enable the seamless interface, ensure interoperability between edge systems, and have billions of intelligent devices sharing data and securely supporting legacy and new environments.
Bringing hardware and software together is a critical part of the IoT gateway. Intel has partnered with Wind River to develop the IoT gateway, a software solution called Wind River Intelligent Device Platform (IDP). The software solution is a complete and proven development environment for connected driven applications. It delivers connectivity, security, and manageability improvised intelligence to IoT gateway. The data is analyzed and secure before sending it to the cloud. The cloud is then able to turn the data into actionable information and pushed back into the device so people can make a decision.
Acnode's Microbox Embedded Computers
Embedded computers utilize the high-performance process and are designed for fanless operation with rugged construction under extended working temperatures in harsh working environment. The embedded board provides multiple expansion slots and rich interface I/O ports designed for automation control and network control application.
It provides 24-hour uninterrupted operations, making it incredibly reliable. Fanless enclosures designed to resourcefully disperse heat while protecting internal components from environmental damage ranging from dust and airborne debris to extreme temperatures, moisture, and vibration. This aspect makes it ideal for outdoor advertising, POS/kiosk, transportation, and industrial control automation. The fanless operation and fully integrated interface ports increase computer reliability, extend the mean time between failures (MTBF), and reduces the need for maintenance. It comes with a low power consumption processor and industrial-grade embedded system board for reliability and stable function.
Embedded computer- Fanless
Acnodes' fanless embedded computers are built of lightweight aluminum alloy with extruded aluminum I/O panel, heavy-duty steel, aluminum extrusion, rugged aluminum, or a combination of mentioned material. It provides durability with relatively low weight and has exceptionally good corrosion-resistance properties. It will protect against harmful elements and dust. Because it is light in weight and compact, it can be easily mounted using a wall, VESA, or DIN rail mount. Its operating temperature can withstand a range from 32°F to 104°F. Its I/O ports support mostly VGA, DVI-I, USB 2.0, USB 3.0, COM, RS-232, RJ-45, HDMI, and audio. The drive bay can carry 2.5" SATA3 HDD and MATA or mini- PCI express shared slot. These fanless embedded computers are power supplied by DC power input, providing low power consumption.
Embedded PC with Expansion Slots
Acnodes' industrial computers combine multiple core processor and embedded computer board into a compact rugged chassis with aluminum heat sink has PCI express expansion slots and mounting bracket ready to mount onto any surface with space limited automaton and application. The construction consists of aluminum extrusion with heavy-duty cold-rolled steel, rugged aluminum, or rugged aluminum with steel. These materials are built tough and sturdy. Most of the embedded PC's CPU type is Atom D525 1.8GHz dual-core fanless processor, ICH 8-M or NM 10chipset, and DDR3-800 DIMM socket memory. The expansion slot consists of PCI or mini-PCI. The I/O port has bases of COM port, RS-232, USB 2.0, RJ-45 Ethernet ports, and ATX power on/off switch.
Mini PC- NUC
Acnodes' Mini PC offers a compact rugged NUC form factor enclosure with a high-performance processor and packs the remaining parts into the smallest desktop enclosure possible. It also has rich interface and expansion slots for automation control applications. The textile is of lightweight aluminum alloy with extruded aluminum IO panel or heavy-duty steel. It offers endurance, noiseless, and protection from the harsh operating environment. The CPU type is of power N2930 1.83GHz Quad-Core or 4th generation Core i3/i5 dual-core processor. Its drive bay is SATA or mSATA. There are front and rear I/O ports that include but not limited to USB 2.0, UBS 3.0, RSR 232/422/485 port, RJ45 LAN, HDMI, audio, 9-24V DC-IN Jack.
Embedded PC- Wide Range Working Temperature
Acnodes' wide range working temperature embedded PC has low power consumption CPU and fanless PC cooling system. Its aluminum heat sink and heavy-duty steel frame let the unit work under a wide range of working temperatures in harsh working environments. The operating temperatures it can survive in are as low as -4°F to as high as 122°F. The storage temperature it can withstand is lowest from -4°F to highest at 176°F. The CPU type is either Atom or CeleronTrailBay. It's I/O port contains but not restricted to COM ports, RS-232/422/485, USB, Ethernet, VGA, audio, VDC power input connector.