Industrial computers vary from regular computers in many ways, mainly in their environmental characteristics. An industrial computer is designed to withstand harsh working environments with a wide range of working temperatures, dust and water resistance, shock absorption, and more. And in many instances, industrial PCs aren't able to be freestanding – perhaps space doesn't allow for that or the environment is too dangerous to leave a computer out in the open, which is the perfect scenario for a mounted monitor.
A panel mount monitor is built to mount into a flat surface, while an open frame monitor consists of an LCD monitor and a supporting structure to hold related electronics. These mounting solutions are ideal for rugged outdoor applications, industrial applications, kiosks, cabinet displays, and custom-built machines.
Acnodes has a lineup of customizable mounting solutions, both panel mount monitors and open frame monitors, which are designed to adapt to almost limitless mounting surfaces and specifications. Acnodes panel mount monitors provide an industrial LCD display panel integrated into a rugged metal open frame that is available with or without an aluminum front bezel. These high-quality industrial monitors offer full WUXGA HD resolution with up to 1000-nit brightness. The quad display is ideal for industrial automation control and CCTV monitor applications. Several of the panel mount and open frame monitor displays are also able to be used in outdoor sunlight applications, with an anti-reflective film.
The monitors from Acnodes come with the option of a touch screen, TV tuner, IP65 rating and a BNC/S-Video input, all of which can be put to good use in a variety of industries, including retail, medical, military, aviation, pharmaceuticals, food processing, automotive and more. On top of that, the panel mount and open frame monitors are stocked in sizes ranging from 5.7 inches all the way up to 42 inches. All of these options, along with additional specifications, allow the panel mount and open frame monitors to be completely customized.
Stainless steel industrial monitors are also available in the Acnodes product line. The PMN80XXX stainless steel series feature a stainless steel rugged enclosure with a fully IP66 rated enclosure. The IP66 rating ensures that these monitors are dust-proof and waterproof, and the stainless steel is easy to polish and clean. The stainless steel panel mount monitors are available in several sizes with the option for GFG or a resistive type touch screen.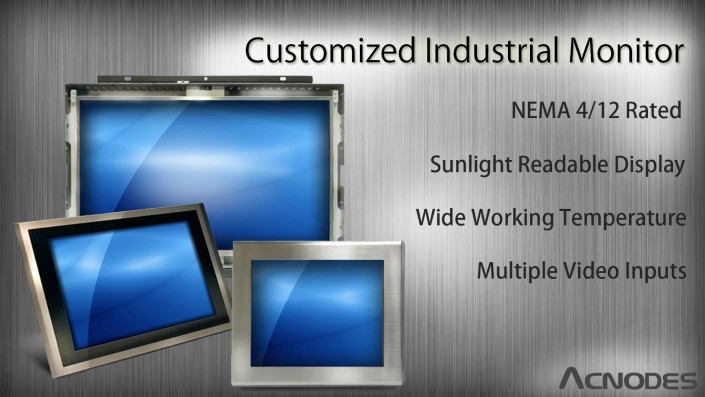 Acnodes Corporation has a wide array of product line configurations. They can customize most commercial and industrial computers to one's specific needs. For information, please visit www.acnodes.com or contact us at [email protected].
About Acnodes Corporation
Acnodes supplies and markets industrial computers and display solutions for diverse industries ranging from automation to the military. They have an array of technological innovations in the area of rackmount servers, embedded computers, Panel PCs, and rugged monitors that created more simple and valuable products to the customers. Acnodes works closely with their clients to customize computer products to meet required projects and specifications. Acnodes strives to explore new technologies to better improve life and work.