Acnodes' rackmount CCTV monitors are 17 to 22-inch rackmount surveillance LCD panels with a 1U to 11U rack. These surveillance monitors are designed specifically for the security industry and provide high-resolution LCD displays, BNC connectors (looping composite), DVR, and S-Video inputs that fit into a standard 19" rack cabinet. Available in 17 to 22-inch models, these LCD monitors feature widescreen LCD displays with 17 million colors & 1000:1 contrast ratio, quick response time to minimize ghosting, OSD function, and panel life of up to 50,000 hours.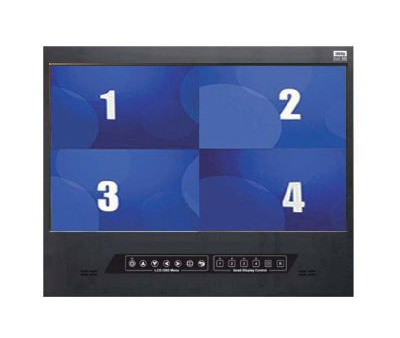 The Quad Splitter allows all of the 4 x BNC video input channels to appear simultaneously via full screen or picture in picture mode. These monitors automatically detect and display the correct video format (NTSC or PAL). A 9 pin D Sub alarm sensor input/output control connector is included along with an RS232 port for the remote control. Adjustments of monitor display parameters are made using on-screen menus and the front membrane switch control panel.
Power supplies are important features of every computer, for the quality of the power supply can be can determine whether a computer may be a stable one or one that crashes often and is simply unreliable. The standard comes with a 110/220VAC auto-ranging low power consumption power supply, which is perfect for this type of unit. But an option for 12, 24, 48VDC power input power supply is also available which simply gives more power to the rackmount quad display unit.
Acnodes' Rackmount CCTV Monitors:
Acnodes Corporation has a wide array of product line configurations. They can customize most commercial and industrial computers to one's specific needs. For information, please visit www.acnodes.com or contact us at [email protected]
About Acnodes Corporation
Acnodes manufactures, designs, and markets industrial computers and displays for diverse industries ranging from automation to military. We have an array of technological innovations in the area of rackmount servers, embedded computers, Panel PC's and rugged monitors that create simpler and more valuable products to customers. We work closely with our clients to customize computer products to meet their required projects and challenges. Acnodes strive to explore new technologies to better improve life and work.