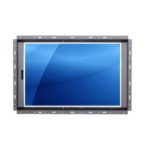 Acnodes introduces our new PMW70XX line to our panel mount monitor series. These monitors feature an open frame metal construction and a stunning 4K LED-LCD panel. The monitors are constructed of metal and can be easily mounted into a cabinet through the front face mounting bracket or rear VESA mounting holes. There are also options available for a resistive or capacitive type touch screen monitor, HDMI/BNC/S-Video video inputs, quad display, and TV tuner with a remote controller. All PMW70XX monitors are CE & FCC certified and RoHS2 & Reach compliant.
PMW70XX monitors are available in seven screen sizes ranging from 15-inches to 55-inches. The LCD supports 3840 x 2160 resolution and achieves high picture qualities. In addition, our panel mount monitors are more than just standalone monitors. PMW70XX monitors have a variety of optional embedded modules including 3G/HD/SD-SDI, HDMI Decoder / Encoder, MCS Multi-Display OSD, and portrait mode. With these modules, users will be able to remotely manage video and transmission for multiple monitors.
PMW70XX monitors come with DP 1.2 / HDMI 2.2 & 1.4 video inputs and a rear power on/off switch and OSD membrane switch. The OSD function lets users adjust the monitor for brightness, contrast, phase & clock, and H&V position. There are also options for a multi-monitor OSD controller, SDI input, and resistive or capacitive type touch screen monitor.
A standard external auto-sensing 100 to 240VAC power adapter is provided with the monitors. There is also an option for a 12, 24, 48, or 125V DC power supply. Our PMW70XX monitors also have a rugged metal construction, which makes it well-suited for harsh environment applications. Moreover, the monitors are ready to mount with the panel or rear VESA mount.

PMW PC Series:
•  PMW7015: 15- inch
•  PMW7017: 17-inch 
•  PMW7023: 23-inch
•  PMW7028 28-inch 
•  PMW7032: 32-inch 
•  PMW7043: 43-inch
•  PMW7055: 55-inch


Acnodes Corporation offers a wide array of product line configurations and can customize most commercial and industrial computers to one's specific needs. For more information about our PMW70XX panel mount series, please visit http://www.acnodes.com/panel-mount-monitor/open-frame-wide-screen-lcd.htm. For questions and orders, please contact our Sales Specialist at [email protected] or call (909)  597 - 7588.
About Acnodes Corporation
Acnodes Corporation markets, sells and manufactures industrial computers and display solutions for diverse industries that range from military to automation. They furnish efficient and valuable products for all their customers. They have a great deal of technological innovations in the form of rugged monitors, embedded computers, Panel PCs, and rack mount servers. Acnodes Corporation aims to meet their clients' needs with the most cutting-edge technology and solutions.