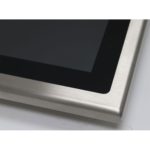 Acnodes Corporation's stainless steel panel PCs are varies from size of 15" to 27". Our fully IP66 sealed panel PCs come with flat front bezels. These stainless steel panel PCs provide Celeron N2930 embedded CPU and AC power input. However, these panel PCs also offer options in core i CPU processors and DC power input.
With the design of slim and flat front bezel. These stainless steel panel PCs eliminate the potential for contamination build-up under the bezel. Our fully IP66 rated stainless steel panel PCs are excellent for food industry and chemical industry. Next, these panel PCs offer wide range working temperature under industry environment. Furthermore, these panel PCs from 15" to 27" are all for VESA mount (75mm) only.
Acnodes Corporation has a wide array of product line configurations. They can customize most commercial and industrial computers to one's specific needs. For more information, please call them at (909) 597-7588 or email them at [email protected] One can also visit their website: www.acnodes.com

About Acnodes Corporation
Acnodes Corporation markets, sells, and manufactures industrial computers and display solutions for diverse industries that range from military to automation. They furnish efficient and valuable products for all their customers. They have a great deal of technological innovations in the form of rugged monitors, embedded computers, Panel PCs, and rack mount servers. Acnodes Corporation aims to meet their clients' needs with the most cutting-edge technology and solutions.