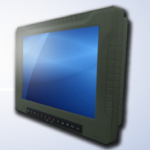 Acnodes Corporations, a leading manufacturer of industrial and embedded computer platforms and technologies, introduced our PCM8215. A 15 inch fan less design military grade panel PC powered by 6th generation Core i5-6200U 2.3GHz CPU.
PCM8215
First of all, the fully IP65 rated rugged enclosure complemented with Mil-Std-810G. Also, provided with wide range working temperature from -20 to 60 degree. Featured with the powerful Intel HD Graphics 520, 16.2 million 8-bit/color, and for 1000-nit high brightness display of LCD panel. The high brightness display (1000-nits) makes PCM8215 into the perfect outdoor computer for sunlight readable monitors. 
Moreover, the 15 inch 1024 x 768 LED monitor displays brilliance image qualities. Furthermore, military grade designed panel PC powered by 6th generation Core i5-6200U 2.3GHz CPU. Along with chipset of SoC Integrated, 1 x 2.5" SSD or 1 x mSATA SSD drive bay, and 1 LAN, 2 COM & HDMI video port. PCM8215 will meet the  functionality and practically of requirements in demanding environments. Also the robust design fitting the needs for every harsh environment applications such as utility and outdoor usages.
The PCM8215''s dimension is 15.75"(W) x 2.70"(D) x 12.99"(H). Furthermore, provided with options for touch screen for customer's desire. Such as 5-wire resistive type touch screen monitor or projected capacitive touch screen. All of Acnodes monitor solutions offer multiple touchscreen technologies. When in a dusty situation, a mouse and keyboard become sticky and making works harder and loose the efficiency. Therefore, most of military demands  an industrial touchscreen computer to eliminate the need for a mouse and keyboard. 
Acnodes custom customer's industrial panel PC with the right processor, memory and other options such as wireless and Windows. There are also other options for wireless and speaker, 1 x WiFi 802.11 a/b/g/n and 2 x 1W Speakers. Moreover, the power supply has a wide range of 12 ~ 48V DC power input; option for 100~240V AC input. The connectors include two USB 2.0, one Giga LAN, one RS232, one RS422, and DC 12~48V input. The efficient and reliable data collection and processing to ensure safety and stabilized in any military environment. 
Fianlly, no matter what your requirements are. Acnodes always provides you with customized Panel PCs and displays for a wide range of applications for Medical, Industrial, Transportation and Military.


About Acnodes

Acnodes Corporation has a wide array of product line configurations. Our product line configurations are illustrated on our web site at Acnodes.com. However, most of the commercial and industrial computers are custom built to your exact requirements. To discover how we can give you the equipment you need for your specific needs. Please contact us via e-mail: [email protected] or telephone (1-909-597-7588).
Many military and industrial professionals choose Acnodes Corporation when they are looking for high performance rugged computing solutions. Acnodes provides solutions of rugged high-performance computing and high-capacity data storage to use in harsh environments. Acnodes Corporation markets, sells, and manufactures industrial computers and display solutions for diverse industries that range from military to automation. They furnish efficient and valuable products for all their customers. They have a great deal of technological innovations in the form of rugged monitors and so much more. Acnodes Corporation aims to meet their clients' needs with the most cutting-edge technology and solutions. Finally, in Acnodes, one can find products with full range of features for successful and life-long use in industrial field.