A thin client (also called lean or slim client) is a stateless, fanless desktop terminal that does not contain a hard drive. When using a thin client, all the features that are typically found on the desktop PC such as applications, sensitive data, and memory are stored back into the data center or server. Thin clients, software services, and backend hardware comprise thin client computing, a virtual desktop computing model. Using thin clients as a PC replacement technology helps customers get immediate access to any virtual desktop or virtualized application. Not only do thin clients provide a cost-effective way to construct a virtual desktop infrastructure, they are applied in assorted industries and enterprises around the globe that all have different requirements but participate in common goals. Thin clients' edge is the cost, security, manageability, and scalability benefits.
Since a thin client relies strongly on other computers or servers to execute its computing tasks, its application involves less hardware and computing performance than traditional PCs. In comparison to full-sized PC systems, a thin client is a simple user input/output device. It uses the computing power of a networked server to perform data processing, management, and storage tasks. The majority of thin clients operate on Web browsers and/or remote desktop software or display protocols for communicating with the terminal server. New virtualization technologies are gaining popularity in thin client applications, providing a highly personalized working environment, and centralized data management.
The user input is sent to the server or virtual desktop for processing, and the thin client displays the results/output the server returns. The latest desktop virtualization or terminal server solutions not only support hardware such as printers connected to the terminal server but also provide optimized solutions for streaming audio and video files. Typically thin clients run on operating systems such as Linux, Windows CE, Window Embedded Standard (WIN32), or Windows Embedded 7.
Three Types of Thin Clients
Basic Thin Clients
Basic thin client terminals feature a proprietary operating system that delivers simple server-based computing in a thin-client appliance. All application processing including web browsing occurs on the server. Local processing is not available and there are limited peripheral options. Basic thin client terminals are ideal for task-based or transaction-based users with a persistent network connection. Kiosks in the retail and service environments are popular settings to be used. Basic thin clients are also used regularly in the healthcare industry, where healthcare workers can get on-demand access to secure patient data from the server using a desktop or wireless device.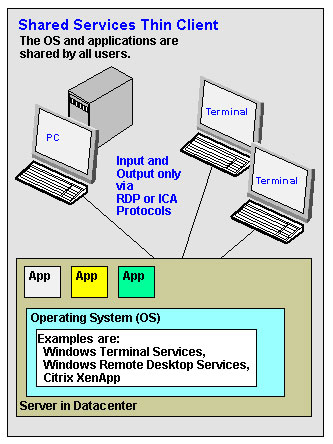 Browser Thin Clients
Browser-based (data processing) approach uses ordinary PCs connected to the Internet and applications are completed in the Web browser. Browser thin clients feature all of the competence of basic thin clients but with additional functionality and power. Based on Microsoft's Windows CE embedded operating system, browser terminals are the most desired model in the thin client category. Windows CE features Internet Explorer for local web computing and has enough power built in to run a local terminal emulation suite, making browser thin clients a popular choice for green screen (dumb terminal) computer replacement. In addition, the operating system can be custom-configured using the CE-supported Windows drivers and peripherals, like wireless computing, USB, CD-ROM, and smart cards.
Due to the efficiency and performance of a local browser, browser thin clients thrive where task-based or transaction-based works need access to the Web or Web-based applications. Call center, customer service reps, and retail users most likely use the browser thin clients because they can access web-based information in addition to data from the central server.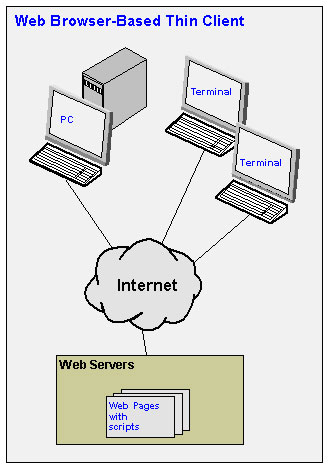 Flexible Thin Client
Flexible thin client run on Windows XP Embedded which is Microsoft's most powerful embedded OS. Flexible thin clients contain all of the features of the browser thin client with even more power for local processing, a local Java Virtual Machine, the option to embed local applications, top-line graphics and colors, and full Win-32 API application support.
Flexible thin clients support the full catalog of Windows peripherals and management tools, giving the users PC-like flexibility and easy integration into Windows environments. A flexible thin client can be custom configured to meet the exact needs of any application and are a great solution for users in businesses like package delivery services, retail operations, and airlines. Since it is the only Windows thin client that can function under the circumstance of a network failure, it is suitable for cash drawers and other business-critical terminals.
HMI Applications and Thin Clients
As companies are progressively run HMIs from servers attainable by standard Web browsers, rather than load full HMI software on every PC, the browser-based operator interface terminals become the ultimate solution for commercial and industrial applications. In thin-client HMI applications, the processing is performed in a server, often with redundant backup. It also usually locates in a safe, protected environment and area. Acnodes' Ultra-Slim Panel PC has specialized HMI applications. The HMI thin clients and operator interface terminals are based on their proven industrial HMI hardware engineering, design, and customization capabilities. Acnodes' panel PC HMI is a very cost-effective way to run an operator station on-site at the machine with high convenience from Windows functionality and applications.
Acnodes's panel PC with HMI application runs on Bay Trail or Celeron Quad-Core. It offers a touch screen in various display sizes from 7 to 24 inches and has a full selection of touch screens for an intelligent display unit between human to machine interface. It is a protective IP65 rated rugged enclosure with ant-shining AR coating in the front. It contains WiFi and Ethernet for the networking connection. It supports RS-232/422/485 and USB 3.0 for real-time data acquisition. The ultra-slim and fanless design enclosure create for easy installation and maintenance. Compared to traditional PCs, thin clients offer superior security, and a very low total cost of ownership, resulting in reduced maintenance, administrative, and electricity costs.