Acnodes Corporation is proud to announce the new professional LCD display series for outdoor applications: the PM-S, ruggedized open frame panel mount monitors with wide range temperatures that range in sizes from 5.7 inches to 17 inches. The PM-S line is distinguished by its ability to operate efficiently in harsh environmental conditions such as heat, humidity, cold and high brightness. One of the limitations of some earlier LCD technologies was their restricted temperature range, not so with the PM-S series. A typical LCD display in the market is usually rated between 0°C to 50°C as their normal operating temperatures; the PM-S is specified for operation in -30°C up to +80°C. With wide operating temperatures, the PM-S series can secure display stability even in extreme heat or cold environments or large temperature fluctuations. This new line of products offer an optional IP65 rated / NEMA4 dust and water resistance enclosures that protect it from the risk of damage when exposed to foreign objects such as falling dirt or windblown dust in addition to rain, snow, ice and water.
The PM-S series was developed to deliver and present vivid picture quality in any outdoor location directly exposed to the sun. The PM-S series provides 350 to 700-nit luminance for optimum viewability in direct sunlight and will maintain this luminance level for 35,000 hours or more. They feature an optional Anti-Reflective / Anti-Glare glass for increased protection against harsh impacts and scratches while enhancing viewability in outdoor venues by reducing reflection. All units are available with an optional built-in resistive or capacitive type touch screen for interactive applications.
The PM-S series Open Frame designs are perfect for integrating into kiosks, or rear-mounting in walls or panels. They provide easy mounting options and offers rugged metal housing. These PM-S monitors also offer an unmatched array of monitor options, so monitors can easily be custom configured to meet individual customer requirements. For example, sunlight-readable, SV, AV or HDMI inputs, DC powered, light or motion sensor, various touch screen types, and so on.
For a full series of Panel Mount Monitors from Acnodes, please visit: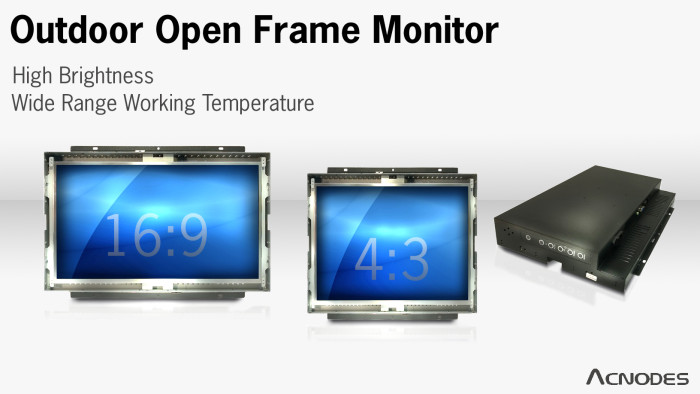 Our product line configurations are illustrated on our web site at Acnodes.com. However, most of the commercial and industrial computers are custom built to customer's exact requirements. Contact us via e-mail: [email protected] or telephone (1-909-597-7588) for more information.
About Acnodes Corporation
Acnodes manufactures, designs, and markets industrial computers and display solutions for diverse industries ranging from automation to military.  We have an array of technological innovations in the area of rack mount servers, embedded computers, Panel PC's and rugged monitors that create simpler and more valuable products to the customers. We work closely with our clients to customize computer products to meet their required projects and challenges. Acnodes strives to explore new technologies to better improve life and work.