Acnodes Corporations, a leading manufacturer of industrial and embedded computer platforms and technologies, introduced today the launch of FES8210, an ultra compact fanless embedded PC most notable for its Atom E3845 1.91GHz Quad Core CPU, rich I/O ports, and wide range operating temperature. Weighing only 2.31 lbs with dimensions of 5.87"(W) x 4.13"(H) x 2.24"(D), the ultra compact rugged enclosure delivers anti-shock and anti-vibration resistance.  With the palm sized embedded PC, it can be efficiently and effortlessly be mounted via wall mount or optional DIN-rail mount.
The embedded board consists of Atom E3845 1.91GHz Quad Core CPU and Intel SoC chipset with integrated HD graphics, delivering outstanding compute, graphical and media performance while operating in an extended range of thermal conditions and consuming low amount of power. To fulfill immense storage capability, the memory is of DDR3-1333MHz SODIMM with 4GB standard 8GB maximum.
The rich panel I/O ports comprise of 2 x Gigabit Ethernet ports by Intel l120 GbE controller, 1 x DVI-I connector for both analog RGB and DVI or HDMI outputs, 2 x RS-232/422/485 (COM1 & COM3), 2 x RS-232 (COM2 & COM4), 3 x USB 3.0 ports, 1 x USB 2.0 port, and standard 8-CH 5V TTL GPIO with optional 4-CH isolated DI + 4-CH isolated DO.
The video port supports DVI-I connector both analog RGB and DVI or HDMI outputs. The expansion slot includes Mini PCIe slot with USIM socket. The drive bay accommodates an internal SATA port for 2.5" HDD or SSD. With built-in 8~35V DC power input, it has 2-pin pluggable terminal block for DC input.
The wide range operating temperature withstands from -25°C ~ 70°C (-13°F ~ 158°F) with SSD of 100% CPU loading or -10°C ~ 50°C (14°F ~ 122°F) with HDD of 100% CPU loading. The storage temperature withstands at -40°C ~ 85°C (-40°F ~ 185°F). The humidity tolerates at 10~90%, non-condensing. The vibration resistance during operation is at 5Hz~500Hz / 5 Grms / 3 Axis. The shock resistance during operation is at 50G, half-sine 11ms duration.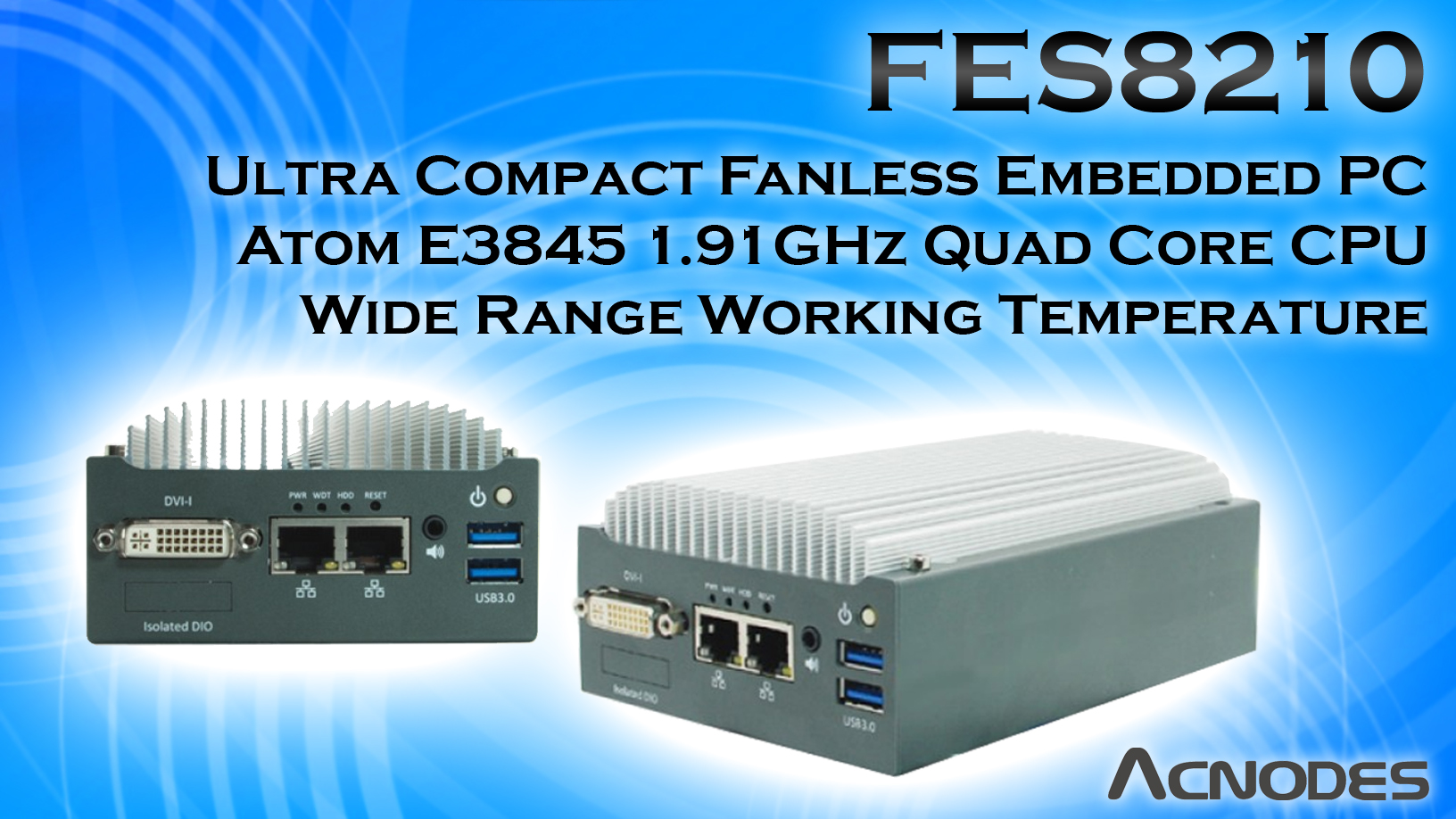 FES8210: Acnodes ultra compact Embedded PC with Atom Dual Core E3845 1.91GHz Dual Core CPU, fanless industrial design, configurations with up to 8GB DDR3 memory, 1 x internal SATA, 2 x Ethernet, 4 x Serial, 4 x USB, analog RGB & DVI/HDMI video outputs, 8-35V DC power input.
A full listing of Fanless Embedded Computers from Acnodes:
Fanless Embedded PC– Embedded computer with low power consumption processor within a rugged compact enclosure
•Mini NUC Embedded PC – Embedded computer utilizes a compact rugged NUC form factor enclosure with high performance processor
•Embedded PC with Expansion Slots – Embedded computer with PCI/PCIe high-speed expansion slots in a compact enclosure
•Wide Working Temperature Embedded PC – Embedded computer with aluminum heat sink and heavy duty steel frame allow unit work under a wide range working temperature in a harsh working environment.
Our product line's configurations are located on www.acnodes.com. However, most of the commercial and industrial computers can be custom built to customers' preference. Contact us via email at info@acnodes.com or telephone (1-909-597-7588) for more information.
About Acnodes Corporations
Acnodes manufactures, designs, and markets industrial computers and displays for diverse industries ranging from automation to military. We have an array of technological innovations in the area of rackmount servers, embedded computers, Panel PC's and rugged monitors that create simpler and more valuable products to customers. We work closely with our clients to customize computer products to meet their required projects and challenges. Acnodes strive to explore new technologies to better improve life and work.