Acnodes Corporation's military grade rack mount monitor is ideal for aerospace, military defense, industrial applications, and harsh environments. Not only that but it is designed to pass MIL-810 environmental testing standards.  Plus, its rugged LCD display comes with aluminum front bezel and anti-reflective glass to shield the LCD panel. Furthermore, its fan-less cooling thermal design and shield enclosure prevents transmission of noise signals by controlling EMI.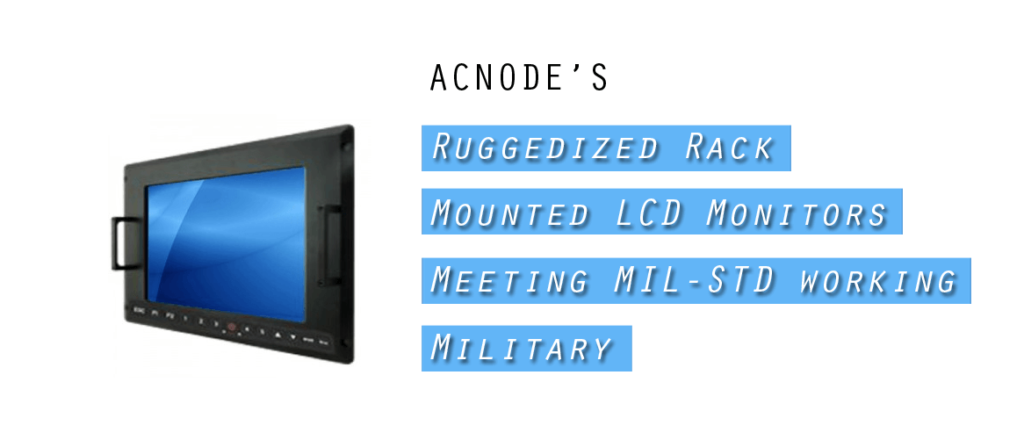 Features of the Military Grade Rack Mount Monitor
The rack mountable display is encased in a heavy duty anti-corrosion housing. This mounts directly into an industry standard 19-inch server cabinet. Additionally, it has an IP65 rated front bezel, AR (anti-resistance glass) and fan-less passive cooling design.  These prevent water and dust damage, as well as front impact.
Moreover, the military grade rack mount monitor meets the MIL-STD-810G Environmental Engineering for extreme conditions. This includes good protection from mechanical shock, vibration, humidity, temperature, and radiated emissions. It also features the option for ITO-EMI glass, which meets MIL-461F EMI/EMC compliance.
Plus, the military grade rack mount monitor features a wide range display size from 17-inch to 20-inch, as well as 1080P full HD /1920 x 1200 display resolutions. Also, its LCD display enhancement includes a high brightness LCD panel, extend range working temperature (below freezing point), touch screen and optical bonding (between LCD panel and glass).
In addition, it has a Mil-D38999 connector for power input and an option for Mil-D38999 for video signal input.
About Acnodes
Acnodes Corporation designs, sells, and markets display solutions and industrial computers for industries ranging from automation to military. They supply valuable and efficient products for all their customers. They have a vast deal of technological innovations in the form of embedded computers, Panel PCs, rugged monitors, and rack mount servers. Acnodes Corporation strives to meet their clients' needs with quality technology and solutions.