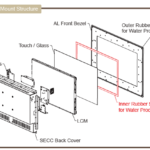 First of all, IP rating is also known as Ingress protection rating. Second, IP Rating recognized by the two letters IP, and then followed by two numbers. Next, these numbers represent as the amount of protection the machines offered. IP rating protects machines from harmful material that might get inside the product and causing problems such as water. Therefore, with protection from IP, machines offer rugged housing and keep the product live longer. 
IP65 Panel Mount Structure
IP rating defines levels of sealing effectiveness of electrical enclosures against forces from foreign bodies, tools, solid particles or moisture. In IP rating, the first number refers to the protection against solid particles, for example dust. Moreover, the second number means the level of protection against liquids, such as water. Larger number of each digit, it means greater power of protection. Therefore, to get more protection or higher protection, users can choose the larger numbers of IP rating.
There are different number of combinations when comes to IP ratings.IP65 offers protection against multi-directional and low-pressure water jets. Furthermore, IP65 also provides complete protection from dust, oil, and other non-corrosive material. Acnodes also offers panel mount monitors with fully IP65 rated to the market for industrial industries.
All of Acnodes' IP65 product series goes through the standard testing procedures (test reports) to check the design reliability. Our design meets IP65 rating requirement. Mostly of Acnodes' aluminum front bezel of panel mount monitor provides two mounting types, VESA mount or panel mount.
VESA mount is a standard mounting for flat panels, and also known as the Flat Display Mounting Interface (FDMI). Furthermore, most of the video electronics standards association, such as TV and monitor offer VESA mounting or Panel mount/wall mount options. Moreover, all major TV and TV mount manufacturers follow VESA standardized screw-hole positions to ensure that the products are compatible with one another.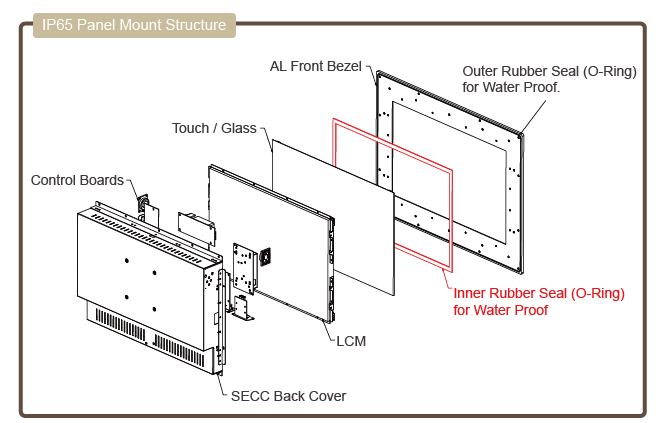 IP66 Assembly Structure
With IP66 fully stainless steel provides complete protection against outside contact with electronic and electrical components. IP66 offers  protection against harmful deposits of dust and strong water jets from any direction against the enclosure. Furthermore, IP66 is stronger than IP65. Moreover, IP66 also offers complete protection from oil and other non-corrosive material. If customers are looking for customization on hinges, latches or locks. Acnodes are very good at helping our customers.
Acnodes Corporation has a vast amount of product line configurations. Moreover, they can customize most industrial and commercial computers to one's specifications. For more information, please e-mail them at info@acnodes.com or visit their website: www.acnodes.com. One can also call them at (909) 597-7588.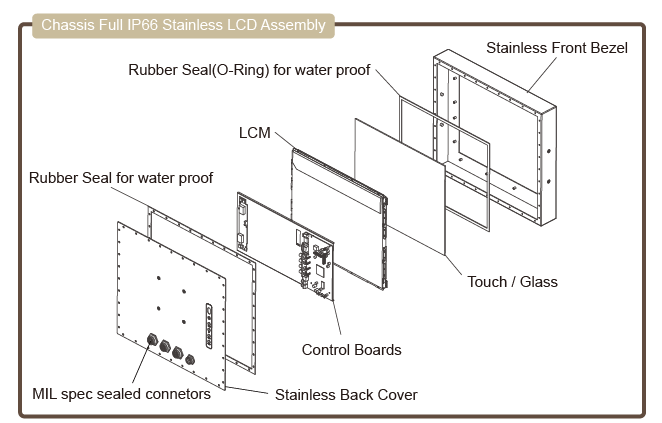 About Acnodes

Acnodes Corporation makes, sells, and designs industrial computers and display solutions for diverse industries that range from automation to military. Most of all, they supply efficient and valuable products for their customers. They have a host of technological innovations in Panel PCs, embedded computers, rack mount servers, and rugged monitors. Acnodes Corporation strives to meet their clients' needs with cutting-edge technology and solutions.