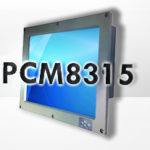 Acnodes Corporation, a quality provider of industrial computers introduces 15" military grade panel PC - PCM8315.  PCM8315 features in fully IP66 rated anti-corrosion aluminum housing. PCM8315 offers test reports for MIL-STD-810G in vibration, shock and temperature. Furthermore, PCM8315 offers 1000-nit high brightness LCD panel and 1024 x 768 LED backlight monitor. Moreover, this 15" panel PC also offers Baytrail Celeron J1900 2.0GHz embedded system. With wide range of power input from 18~36V DC and Dual Lan, 2 USB, 2 COM, and VGA video input. PCM8315 also offers the selection of touch screen types between resistive type or capacitive type.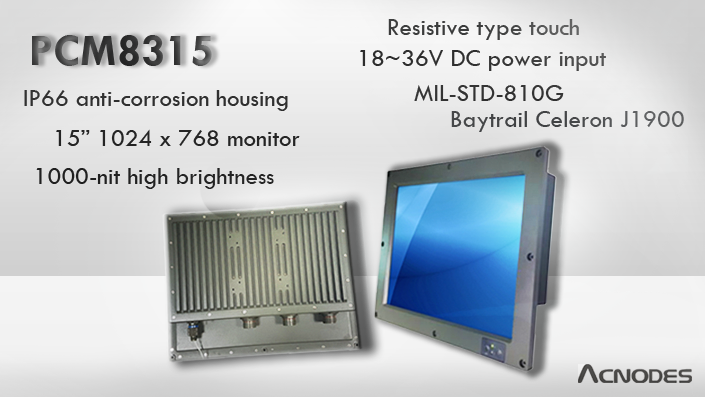 First of all, PCM8315 features CPU Baytrail Celeron J1900 2.0Ghz with SoC integrated chipset. This rugged panel PC comes with standard mSATA SSD 64GB and memory with DDR3L 1066/1333MHz. Maximum for 8GB. PCM8315 provides wide range of power input from 18~36V DC with power consumption ~40W. Furthermore, PCM8315 also offers the option in 100~200V AC power input. Moreover, the PCM8315 supports with a 15" high image quality capacitive or 5-wire resistive type touch screen monitor with 1024 x 768 pixels resolution. The LCD panel offers 16.2 million colors, and 1000 nits high brightness level with a viewing angle of 160'(H) 140'(V) degrees.
In additions, PCM8315 comes with i211AT Ethernet controller and OSD buttons for On/Off and reset buttons. The connectors offer 2 x COM ports, 2 x USB 2.0, 2 x RJ45 GbE LAN, 1 x VGA port, and 1 x DC power input. Furthermore, PCM8315 also offers the selection of 1 x USB 3.0 for connectors. Furthermore, the system indicator offers 1 x Power LED and 1 x HDD LED with Anti-EMI filter. PCM8315 provides optical bonding to enhance the visibility.  In addition to mounting types, PCM8315 compliant with VESA mounting or flush mounting. Moreover, PCM8315 offers mounting from the front, unlike other models that are mounting from the back. There is no panel mounting option offered in PCM8315.
Military requires rapid, reliable and durable technology to guarantee that failures do not happen while operations are in progress. With PCM8315's military standard test reports in vibration, shock and temperature of MIL-STD-810G. PCM8315 survives with wild operating temperature ranging from -20 ºC to 60 ºC. Storage temperature runs from -30ºC to 80ºC and relative humidity runs from 5% to 95% without condensing.  With fully IP66 rated anti-corrosion aluminum housing, PCM8315 provides stronger protection in dust and jets of water. IP66 rated housing increases durability and longer life of PCM8315. PCM8315 offers 15" (W) x 3.18" (D) x 11.97" (H) in dimension and weight of 19.84 lbs. There is also optional in WiFi of IEEE 802.11 b/g/n 2x2.
Acnodes Corporation has a vast amount of product line configurations. Moreover, they can customize most industrial and commercial computers to one's specifications. For more information, please e-mail them at info@acnodes.com or visit their website: www.acnodes.com. One can also call them at (909) 597-7588.
About Acnodes
Acnodes Corporation makes, sells, and designs industrial computers and display solutions for diverse industries that range from automation to military. Most of all, they supply efficient and valuable products for their customers. They have a host of technological innovations in Panel PCs, embedded computers, rack mount servers, and rugged monitors. Acnodes Corporation strives to meet their clients' needs with cutting-edge technology and solutions.