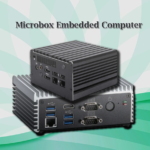 The way industry utilizes computers has developed to include applications inside the computers, known as embedded PC. How exactly is embedded PC different from the everyday PC? Embedded computers offer control ability in a small box and ready to use in industrial environment with flexible operating systems.

First, embedded PC known as computer system that is implemented as part of a bigger device or intelligent system. Next, embedded computers come in many different shapes and sizes for industrial or military equipment usages. Furthermore, Embedded computers play as an important role on Internet of Things and connections between machines, people and places.
Embedded Computers Used for What?
Embedded computers are used in many industries in the world. Most of the industries required high performance computers that can integrate into the existing device easily. Embedded computer referred to a self-contained PC that used as part of a larger system. Moreover, embedded computers serve as for data collection or modern interactive tasks. Embedded computers is a technology that people and smart system can rely on nowadays. There are several benefits by using an embedded computer in a larger device or system.
First, embedded computers offer a number of important advantages than a regular consumer PC. With the low maintenance feature, embedded computer itself provides reliability inside complex systems. Industrial computers are provided with fanless enclosure design to reduce the heat while computers in operation. Furthermore, most of the environmental damages included dust, water, and vibration. Therefore, with the stronger protection such as metal steel or IP rated housing, can reduce the environmental damages.
On the other hand, fanless embedded computers brought a lot of benefits to industrial places. For example, the passive cooling system helps the embedded computer to remain sealed while reducing the heat. By removing the fan to decreases the failure rates, reduce the noise and provide spaces for integrated components.
Acnodes' FES56880 with fanless design embedded computer offers high performance and wide working temperature. Furthermore, FES56880 also provides selection of CPU. Such as Celeron 2980U, Core i3 5010U, or Core i5 4300U processor. Moreover, FES56880 is with 2 GbE LAN, 4 USB 3.0, 2 COM, PCIe Mini Card, 60W 90~264V AC power adapter.

Advantages of Embedded Computers
Embedded computers collect and process data from sensors to IoT network. Furthermore, embedded computers provided real time reactions to support the device and system. Moreover, embedded computers also maintain the security and safety. Most of the embedded computers support with wide working temperature for a situation where heat generated oftenly.
Aconodes provides a huge range of different type of wide working temperature embedded computers. For instance, Military grade embedded PC integrated 6th generation Skylake Core i7-6600U, FES9280. Next, FES9280 offers fully IP67 rated fanless and operating temperature from -30°C ~ 65°C. Furthermore, FES9280 provides MIL-STD-810F in temperature, Vibration and shock and also MIL-STD-461E EMC compliance.

Industry 4.0 Transforming Manufacturing
Industry 4.0 system gives the flexibility and connectivity which makes it easier for users. Furthermore, with the flexible manufacturing allows factory to produce more products using same equipment. Moreover, industry 4.0 also brings convenient maintenance to factory. Factories only need to replace the modularized faulty components for repair, without sending the entire product. Modularized IPCs allow specific applications and selecting areas from a single product to upgrade or downgrade as customers' requirement.
Why Modularize the Platform?
Modularizing the platform of embedded computers helps to increase flexibility. The diversity in modular options allows users to choose specific configuration according to their application requirement.
With modularize platform, it is easy to maintenance and upgrades certain parts of the whole unit. By doing modularize platform also reduce the cost of users because users only pay for the features they required. Therefore, the ability to detach and replace defective modules minimizes maintenance efforts and costs.