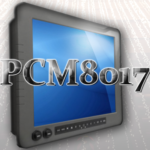 Acnodes Corporation, a leading manufacturer of industrial and embedded computer platforms and technologies, introduces PCM8017. Furthermore, PCM8017 offers 17" military grade panel PC powered by 6th generation Core i7-6600U 2.6GHz CPU and a fully IP67 rated rugged enclosure. Moreover, PCM8017 also meet Mil-Std-810G and -20 to 60 degree C wide range working temperature.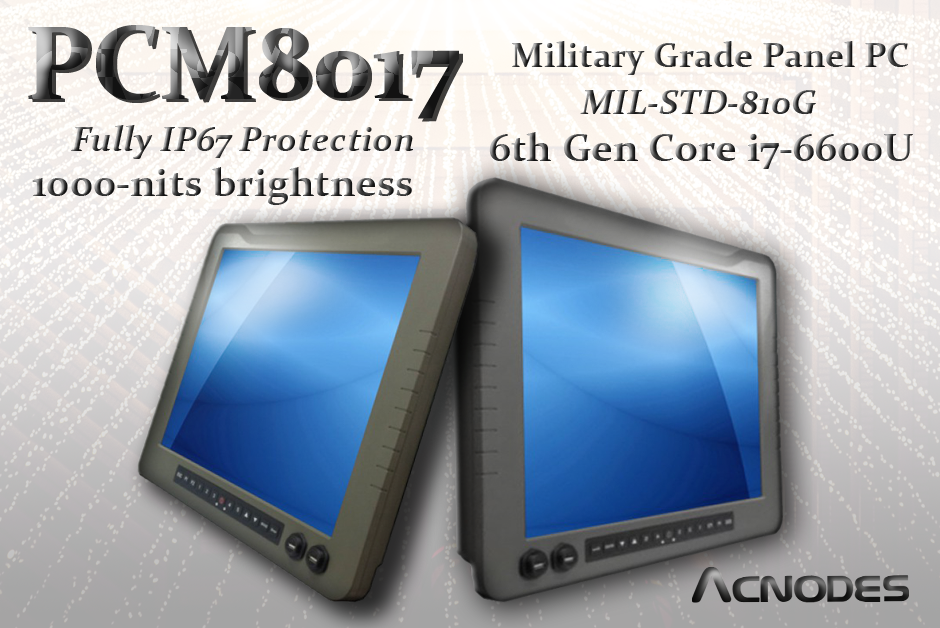 The fully IP67 rated enclosure supports MIL-STD-810G in shock, vibration, humidity, low and high temperatures. With the fully IP67 protection and MIL-STD-810G standard, PCM8017 provides durability and reliability in harsh environment. Furthermore, PCM8017's monitor displays 1280 x 1024 with LED backlight. Moreover, with 1000-nits high brightness and 1000:1 contrast ratio. PCM8017 also provides 16.7M in colors and viewing Angle as 160'(H)/ 130'(V). Additionally, PCM8017 offers 5-wire resistive type touch screen monitor with EMI filter.
On the other hand, PCM8017 comes with 6th generation Core i7-6600U 2.6GHz CPU with DDR4 SO-DIMM 8GB for memory slot and SoC integrated chipset. Furthermore, the dimension measures at 17.72"(W) x 2.85"(D) x 15.12"(H) and weight at 25.35 lbs. Next, the operating temperature withstand from -20 to 60 degree C and storage temperature from -30 to 70 degree C. With wide range working temperature ensures PCM8017 's reliability under difficult conditions. Moreover, the environmental EMC is MIL-STD-461F. Additionally, there is up to 7 programmable function keys on front panel of PCM8017.
PCM8017 supports 1 x mSATA SSD 128GB for system boot. In additions, this military grade panel PC offers full size miniPCIe for wireless card and IEEE802.11 a/b/g/n 2x2 dual band. Furthermore, the power supply consists of 9~36V isolated DC input. Moreover, the connectors include 4 x COM ports, 1 for RS-232, 3 for RS-422. Addiiotnally, with 2 x USB 2.0,
1 x GbE LAN, 1 x VGA video out port, and 1 x 9~36V DC input. PCM8017 also provides an optional feature for 2 x Front side IP67 Type A USB 3.0.
For additional information on PCM8190, please visit http://www.acnodes.com/PCM8017.htm.
Acnodes Corporation has a wide array of product line configurations. They can customize most commercial and industrial computers to one's specific needs. For more information, please call them at (909) 597-7588 or email them at info@acnodes.com. One can also visit their website: www.acnodes.com
About Acnodes
Acnodes Corporation markets, sells, and manufactures industrial computers and display solutions for diverse industries that range from military to automation. They furnish efficient and valuable products for all their customers. They have a great deal of technological innovations in the form of rugged monitors, embedded computer, Panel PCs, and rack mount servers. Acnodes Corporation aims to meet their clients' needs with the most cutting-edge technology and solutions.